Why Have So Many Happy Families Been Destroyed? (Photos)
(Clearwisdom.net) Numerous people have experienced vast enhancements to their physical and mental health and improved family relationships after they started to practice Falun Gong. For example, Lian Quanjing, a resident of Taipei, Taiwan, had broken up with his girlfriend, Yu Lun, because of her bad temper. After he noticed how tranquil and peaceful she became after she started to practice Falun Gong, he asked her to take him back. After meeting Yu's mother, his parents were also impressed by the high moral standards of Falun Gong practitioners, and wholeheartedly approved the marriage between their son and Yu. The two families are now very close.
Yong Jie, a realtor, and his partner Hui Wen, a kindergarten teacher, had frequent arguments and were planning to break up. Soon afterward, they started to practice Falun Gong. They both learned to put themselves in the other person's shoes, support and trust each other, and now they are happily married.
Mr. Huang Zhongpeng owns a machinery business in Shulin City, Taiwan. His mother, who used to be extremely demanding and difficult to deal with, became kind and down-to-earth after she started to practice Falun Gong. Her change led to vast improvement in the harmony of their family, and she is now a respected elder in their family.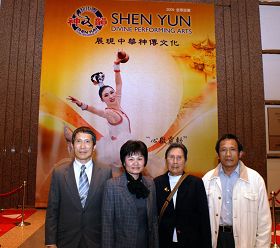 Huang Zhongpeng (first left) with his wife, mother, and older brother at the Taipei International Convention Center after they enjoyed the the Shen Yun Performing Arts show at the convention center in March of 2009
Zhang Cixi is an elementary school teacher at Fuxing Elementary School in Taizhong County. She and her husband have lived with his parents and his siblings since they got married. Under the guidance of Truth-Compassion-Forbearance, besides working full-time as a teacher, she willingly does the vast amount of housework for the extended family as well as take care of her ill father-in-law. The forbearance that she displays has earned her the respect and admiration of her entire extended family.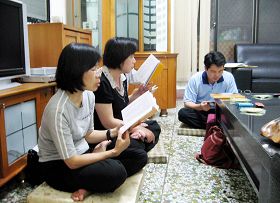 Zhang Cixi (in gray shirt), an elementary school teacher at Fuxing Elementary School, reading a Falun Gong book at a local book-reading session.
There are numerous examples of families that were once filled with conflicts and on the verge of collapse but became happy and harmonious after members of their families began to practice Falun Gong.
Yet in Mainland China, tens of thousands of families have been experiencing indescribable suffering because the Chinese Communist regime has illegally detained their loved ones because they practice Falun Gong. As a result, their families have been destroyed. In some cases, their loved ones have even died.
According to a report published on the Minghui website (Chinese version of Clearwisdom), Xiang Lijie, a Falun Gong practitioner in Liaoyuan City, Jilin Province, was forced to end her marriage to her Taiwanese husband.
Mr. Xiang married a Taiwanese citizen named Yang Jingyi in 1994, and they had a happy marriage. But since the Chinese Communist regime began to persecute Falun Gong on July 20, 1999, she has been unable to visit her husband in Taiwan because she refuses to give up her belief in Truthfulness-Compassion-Forbearance. Even though she received permanent residency in Taiwan, the Communist regime has refused to process her application to visit Taiwan. As a result, she has not been able to spend any time with her husband over the last 10 years. Even when her father-in-law passed away, she was not allowed to attend his funeral in Taiwan. Her husband worked tirelessly over
the years to try to bring his wife to Taiwan, seeking assistance from the Taiwan Legislative Yuan and the Cross Strait Foundation. But his pleas were repeatedly ignored by the Jinlin Province police department as well as the local police department. After close to 10 years, her husband finally lost all hope and was left with no choice but to file for divorce in order to move on with his life. A happy family was forcefully broken apart. Their case is one of the millions of similar cases in Mainland China.
Guilt by Association, the Cruelest Persecution against People's Souls
Because he refused to give up Falun Gong, Mr. Zheng Zhi, who used to live in Liaoning Province in China, was placed on the "Wanted Criminals" list by the regime. He was forced to leave his new-born child as well as his wife, who had given birth just 20 days before. He received United Nations refugee status in Thailand and was given permission to move to Canada. He said, "I still vividly recall the way I felt when I was forced to leave my family behind. I didn't know if I would ever see them again. Because I refused to give up practicing Falun Gong, all my family members were punished because of their association with me. The cruelest persecution is the abuse of one's soul. The Chinese Communist regime has used all kinds of methods to try to force Falun Gong practitioners to give up their belief, including placing pressure on their families and threatening the loss of their jobs, freedom and right to exist. For example, they ordered my family, my employer, and the local 610 Office to sign a so-called 'joint acceptance of responsibility' over me. They ordered my family and my colleagues at work to put pressure on me and watch me 24 hours a day."
Mr. Zheng Zhi's personal experience is the same as that suffered by tens of thousands of Falun Gong practitioners. Cao Hongguang, who started practicing Falun Gong on June 9, 1999, said, "Officials from the local detention center prohibited us from practicing the Falun Gong exercises. When they saw us exercising, the guards beat us brutally. Some of them hit us with electric batons, and some of them handcuffed us with our arms behind our backs. What was most painful were the methods they used in an attempt to force us to give up practicing Falun Gong. The police took me back to my home and ordered my family members to persuade me to give up my practice. When I refused to listen, my family members and good friends would weep and curse me at the same time. They even made my 90-year-old father and 85-year-old mother weep in front of me."
Family Members of Falun Gong Practitioners Forced to Leave Their Homes
Ms. Tu Yuchun, a Falun Gong practitioner in Gansu Province, was fired from her job at the Gansu Province Village-and Town Enterprises. Because of the persecution of Falun Gong, she was forced to flee her home. On a Chinese New Year eve, officials of the local police station ordered her husband to search through the homes of all their relatives to find her. When he couldn't find her, the police station ordered his employer to suspend him from work and told him that the only way for him to go back to work was to locate his wife. The local police also secretly followed their daughter in order to find Ms. Tu. Ms. Tu's mother was also locked up in the local detention center for one day. The family was threatened with the closure of a snack bar that they operated to maintain a livelihood unless they could find Ms. Tu and turn her in.
The husband of a practitioner wrote the following in an appeal letter, "My biggest wish is to live peacefully like a normal person. Such a wish is an insignificant one for normal people. But it is an extravagant and unattainable wish for a family with a family member who practices Falun Gong. I really wish the persecution against Falun Gong would cease immediately."
He also said, "Because of the policy of 'guilt by association,' the police took me from my workplace to the local police station many times to interrogate me. They kept asking where my wife was. I lived in a constant state of anxiety. Even my wife's friends urged me to divorce her. My friends gave me the same advice. Because I was afraid of the repeated harassment by the police at my workplace, I decided to leave my job. It took me two months to find another job as a truck driver. I am only paid 400 yuan per month, which is very little. But I had to take the job because I hadn't made any money in a long time. Because I am afraid that I will be recognized, I keep all the windows up all the time. I drive a delivery van without air conditioning. Every day the seat in the van is soaked with sweat."
Families Aid the Persecution
After being deceived, harassed, threatened, bribed, and mistreated by the Communist regime, some family members of Falun Gong practitioners have participated in the persecution. Among the practitioners who have been detained or forced to flee their homes, many of them were turned in by their own family members.
Ms. Zhou Huaying used to work at the Chinese Commercial Bank in Hengyang City, Hunan Province. Every time she left home, her husband, Li Xiangyang, would follow her and report to the local 610 Office where she went. He also physically assaulted the practitioners who came into contact with his wife. Practitioner Ms. Pu Yingshu's husband reported to the local police that she had gone to Beijing to appeal for Falun Gong. He thought the police would bring Ms. Pu home. Instead she was sent to the local detention center. Ms. Hou Yanqing, a retiree from the Lanzhou City Transportation Company, was beaten into unconsciousness by her husband on March 8, 2008. The police station then locked her up in a brainwashing center in Gongjiawan, Lanzhou City (the so-called Lanzhou City Legal Education School). She is still being held there. Her father, who is in his 80s, is left at home by himself with no one to care for him.
The Heartbreak of a Seven-year-old Boy: "Mom, Please Go Now! Don't Let Them Arrest You!"
Ms. Ma Chunxia is a Falun Gong practitioner in Changchun City, Jilin Province. She wrote, "My older sister was persecuted so badly that she was on the verge of death. Yet the police came to our home to arrest and take her away again. Our mother tried to stop them from taking her by crawling underneath the police car and lying next to a tire. My husband is worried about my safety all the time. I was forced to flee from my home and unable to take care of my small business. When my seven-year-old son heard that the police was going to arrest me, he became very scared and said, 'Mom, please go now! They have already arrested my teacher. Don't let them arrest you, too.' Many of my family members and fellow practitioners have been arrested, beaten, driven to mental breakdowns, sent to labor camps, or even killed. All these things make me feel afraid and I feel as if I am suffocating. The Chinese Communist regime has not only persecuted me, but also my family members. Since the day the persecution started, my heart has never had a calm moment. So many of my family members and fellow practitioners have lost everything! The bloody scenes, one after another, have mentally and physically exhausted me. I want to maintain my beliefs and I want my freedom. I don't want to die, I want to live. In December of 2007, I decided to leave my home permanently. As I was leaving, I didn't dare to turn around and look at my young son. I was afraid it would make me change my mind. I didn't dare to say goodbye to my husband. I had no idea if we would see each other again. After more than 9 years of persecution, even though I am still fortunate enough to have my physical body intact, the persecution that tries to force me to give up my belief in Truth-Compassion-Forbearance makes my life unbearable. To escape the persecution, I have been forced to give up everything and flee my home. The fact that I am still alive is the only thing that my family can ask from me now. After I left, the Chinese communist regime sent people to the home of my parents, my former home, and my small business looking for me. I don't know how much further I need to travel on this journey that takes me away from my family and places me in constant danger."
Heartfelt Cry from the Fiance of a Falun Gong Practitioner: "The victims of this persecution are all members of the society"
Mr. Xue Xinkai is a Falun Gong practitioner in Dalian City, Liaoning Province. His fiance said, "The victims of this persecution are all members of the society."
She said, "During the past six months, I've gradually realized that a headache can become a permanent state, and the wish for a peaceful and ordinary life can become an unrealistic hope. My fiance used to have a very happy home. After the persecution started, his entire family fell apart. My future father-in-law and mother-in-law, who has serious heart problems, were forced to flee from their home. We don't know where they are now. The only one left at home now is my future sister-in-law, an unmarried, young girl. She has to take care of her elderly grandmother ,who is 84 and suffers from the after effects of a serious stroke and worries about her brother, who is being detained in a labor camp, as well as their parents, whose whereabouts are unknown. The police frequently harasses her, demanding to know where her parents went. A policeman who has participated in the persecution once told my future mother-in-law, 'We all know that Falun Gong is good. But we are ordered to persecute Falun Gong practitioners. Anyone who wants to keep his job doesn't dare not to obey.' What a sad state our society is in when someone has to act against their own conscience in order to keep his job! We need to hold those people who are responsible for this situation accountable!"