Taitung, Taiwan: Candlelight Vigil Calling for Justice (Photos)
July 24, 2009 | By a practitioner from Taitung
(Clearwisdom.net) On July 18, Falun Gong practitioners from Taitung held a candlelight vigil at Chiben River, a famous tourist spot, to bring the persecution of Falun Gong to people's attention. Mr. Liang, a practitioner, said that many Chinese tourists visited the site, so he hoped that they would learn the facts about Falun Gong.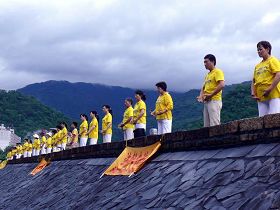 Group exercise
Clarifying the truth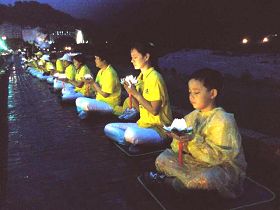 Candlelight vigil
The practitioners' group exercises drew the attention of many spectators. Some of them asked where they could learn the exercises. Many tourists accepted truth-clarifying materials. One of them said that he knew about the persecution but that he did not know it was so brutal. Another tourist noticed that there were a lot of Chinese tourists, and she hoped they would learn the truth, too.
After the exercises, practitioners held a candlelight vigil in the rain. Many buses full of tourists from Mainland China came to the site, and all of them saw the vigil.
Mr. Jiang, another practitioner, said that the persecution actually involves the whole world: " For there to be peace in the world and an end to the persecution, the Communist Party must be dissolved. More than 57 million Chinese have quit the Party. We hope more people will recognize the evil nature of the Party and help to stop the persecution."
Background
Falun Gong, also known as Falun Dafa, is a traditional Chinese spiritual discipline for mind and body. The practice involves slow, gentle movements and meditation. It is easy to learn, enjoyable to practice, and free of charge. Its principles are based on Truthfulness-Compassion-Forbearance. The practice began in China in 1992 and quickly spread by word of mouth throughout China and then beyond. Its beneficial effects in uplifting an individual's physical, mental, and spiritual health, not to mention its positive influence in the community and society as a whole, have been undeniable. In fact, Falun Gong is practiced by over 100 million people in over 110 countries. The main works of Falun Gong are available in over 30 languages.
On July 20, 1999, the Chinese Communist Party (CCP) launched a brutal persecution of Falun Gong. Since the start of the persecution, Falun Gong practitioners throughout the world have been constantly speaking out about the truth of Falun Gong and exposing the CCP's crimes in a tireless effort to end the persecution.