Edmonton, Canada: Rally Calls for an End to the Persecution (Photos)
July 23, 2009 | By a practitioner from Edmonton
(Clearwisdom.net) On July 18, Falun Gong practitioners from Edmonton held a rally at Wilbert McIntyre (Gazebo) Park, calling for help to stop the 10-year persecution of Falun Gong. Many locals watched the rally and listened to the speeches, and some signed their names to support Falun Gong and to help end the persecution.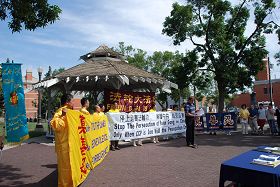 The rally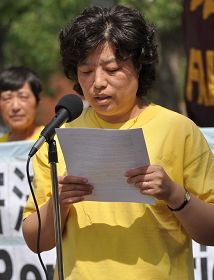 Dr. Liu Minnan, a Falun Gong practitioner, gives a speech
People read truth-clarifying materials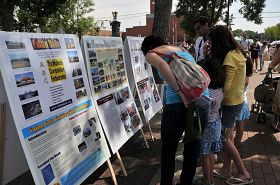 People read truth-clarifying materials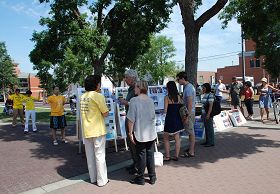 Practitioners answer questions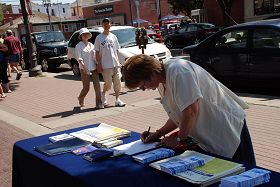 Signing petition supporting Falun Gong
Dr. Liu Minnan, a Falun Gong practitioner, gave a speech, in which she briefly reviewed the history of the persecution. She pointed out that so far, 3,290 death cases have been confirmed, and that between January and September 2008, more than 10,000 practitioners were arrested and 150 practitioners died as a result of persecution.
Dr. Liu said that practitioners have been peacefully resisting the persecution. The Chinese Communist Party is the origin of this disaster, and only its demise can stop the persecution.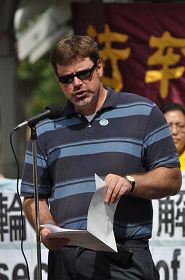 Brent Rathgeber, Member of Parliament for Edmonton, gives a speech
Brent Rathgeber, MP for Edmonton, gave a speech at the rally. He pointed out that Falun Gong practitioners' contributions to peace and harmony of society has been publicly recognized. Practitioners have benefited from Falun Gong physically and mentally, and he thanked the attendees for coming to witness this important date.
He said that the persecution is of concern to Canadians. Canadians respect human rights and promoting human rights as one of the important issues in the Canadian government's foreign affairs policy.
Mr. Rathgeber thanked the practitioners for reminding people of the persecution and said that the practitioners' actions opposing the persecution in the last ten years are important.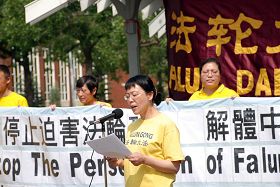 Ms. Shen Jie gives a speech
Ms. Shen Jie has been practicing Falun Gong for 13 years. She said that many of her Falun Gong friends in Jiangsu have been tortured. Her friend Zhang Zhenggang was tortured to death in March 2000.
Ms. Shen said that the persecution is going on every day in China. She called upon Chinese people to recognize the evil nature of the communist party and to help stop the persecution.
Background
Falun Gong, also known as Falun Dafa, is a traditional Chinese spiritual discipline for mind and body. The practice involves slow, gentle movements and meditation. It is easy to learn, enjoyable to practice, and free of charge. Its principles are based on Truthfulness-Compassion-Forbearance. The practice began in China in 1992 and quickly spread by word of mouth throughout China and then beyond. Its beneficial effects in uplifting an individual's physical health, spiritual well-being and moral character, not to mention its positive influence in the community and society as a whole, have been undeniable. In fact, Falun Gong is practiced by over 100 million people in 60 countries. The main works of Falun Gong are available in over 30 languages.
On July 20, 1999, the Chinese Communist Party (CCP) launched a brutal persecution of Falun Gong. Since the start of the persecution, Falun Gong practitioners throughout the world have been constantly speaking out about the truth of Falun Gong and exposing the CCP's crimes in a tireless effort to end the persecution.