Taiwan: Falun Gong Practitioners from Pingtung Call for End to Persecution (Photos)
July 21, 2009 | By a Minghui/Clearwisdom staff reporter
(Clearwisdom.net) On July 18, 2009, Falun Gong practitioners from Pingtung, Taiwan held a series of activities in Eluanbi Park to peacefully protest the persecution in China.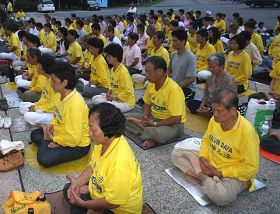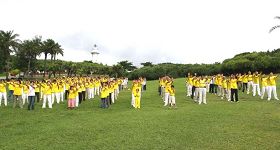 About 200 practitioners did the group exercises in the morning, and then came to the park to clarify the truth to the tourists. Many tourists from China and athletes visiting Taiwan for the World Games 2009 talked to practitioners and expressed their support.
Mr. Chang Suhsing, the organizer of the activity, said that the reason practitioners held activities in Eluanbi Park is because many tourists from China come here, and practitioners want to clarify the truth to them. Mr. Chang called upon the Chinese police officers who have been involved in the persecution to think things over carefully, and not betray their conscience by persecuting Falun Gong practitioners.
Chunrong, a college student who started practicing Falun Gong when she was in the fourth grade, said that the brutality of the persecution is shocking. "We have freedom to practice in Taiwan, but practitioners in China are being persecuted. It is hard to imagine the pressure on them. I admire them for their solid belief and efforts to clarify the truth to people," she said.
Mr. Chen Guilin, representative for the Falun Dafa Association, said that the Chinese government tries to block true information and deceive the Chinese people. He hopes that today's activities will help Chinese tourists see the truth that is being covered up by the Chinese government.
Background
Falun Gong, also known as Falun Dafa, is a traditional Chinese spiritual discipline for mind and body. The practice involves slow, gentle movements and meditation. It is easy to learn, enjoyable to practice, and free of charge. Its principles are based on Truthfulness-Compassion-Forbearance. The practice began in China in 1992 and quickly spread by word of mouth throughout China and then beyond. Its beneficial effects in uplifting an individual's physical, mental, and spiritual health, not to mention its positive influence in the community and society as a whole, have been undeniable. In fact, Falun Gong is practiced by over 100 million people in 60 countries. The main works of Falun Gong are available in over 30 languages.
On July 20, 1999, the Chinese Communist Party (CCP) launched a brutal persecution of Falun Gong. Since the start of the persecution, Falun Gong practitioners throughout the world have been constantly speaking out about the truth of Falun Gong and exposing the CCP's crimes in a tireless effort to end the persecution.