Unique Scenery of Paris at the Eiffel Tower (Photos)
July 02, 2009 | By a practitioner in France
(Clearwisdom.net) On June 28, 2009, a Sunday afternoon, in Human Rights Square beside the Eiffel Tower, a group of Falun Gong practitioners had gathered, as they had often done in the past. Some of them were doing the exercises, some were talking to other people about the exercises and the persecution happening in China. Many locals and tourists from around the world passed by.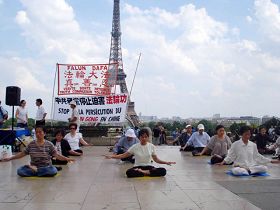 Practitioners demonstrate the exercises on Human Rights Square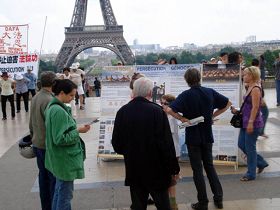 Tourists read display boards
Tourists read the display boards
Many people stopped to watch
There was a fifty-nine year old named Park. She said that she found the practitioners very peaceful. Such a meditation is what people need very much. She expressed it's not understandable why the CCP is persecuting Falun Gong.
Margaret and Arnold came to spend their weekend from outside Paris. They both are teachers. After reading the display boards they expressed their feelings, "It's really unimaginable that today things like annihilation of human beings, harvesting organs from living persons and torture still exist". They hoped that the French government and all the others would pay attention to the persecution and help stop it as soon as possible.
Tourists are attracted by practitioners who are doing the exercises and clarifying the facts
People sign petition condemning the persecution
Rosana is a 59-year-old nurse. She had seen practitioners doing the exercises and sitting meditation in Luxembourg Garden. On this day, she came across Falun Gong again on Human Rights Square. Rosana said that she found this group of cultivators peaceful. It is important for people in modern society to do sitting meditation, because modern society makes people feel stressed. She said that she could not understand why the CCP persecutes Falun Gong.
Margaret and Arno are both teachers who came to Paris for the weekend from eastern France. After looking at the display boards, they expressed their thoughts to the reporter, "It is really hard to imagine that there are still brutal things such as genocide, live organ harvesting, torture happening nowadays." They hope the French Government and governments of other countries will show concern over the persecution, and put an end to this catastrophe as soon as possible.
Michele is a journalist. He videotaped the practitioners doing the exercises and said afterwards, "You are doing very well here. I don't know what is happening in China. But what's important is that you are here, on Human Rights Square, appealing. There is significance in it. And the Eiffel Tower, people all pass here. You are very dedicated to express your thinking using your own spare time. I am very glad to see you here. I have very little knowledge about China, where the human rights are limited." He asked for Falun Gong informational materials and a copy of the French version the Nine Commentaries on the Communist Party and said, "I will read the Nine Commentaries tonight when I get home. This is a very important".
Local practitioners come here frequently, and the impact has always been good.