Xie Deqing Died as Result of Torture at the "Chengdu Legal Education Center" (Photos)
(Clearwisdom.net) Mr. Xie Deqing, 69, lived at East Qingjiang Road No. 188 in Chengdu City. He retired from his position at the Chengdu Hydroelectric Investigation and Design Institute (CHIDI) due to illness. His wife Yu Qinfang, 67, is also a retiree from the CHIDI. They were cured of all illnesses through Falun Gong practice in 1996 and became physically and mentally healthy.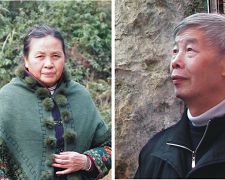 Mr. Xie Deqing and wife Yu Qinfang before arrest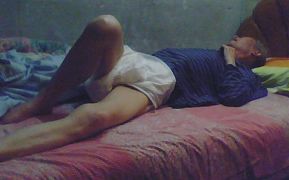 Xie Deqing emaciated and incontinent from torture; unable to eat or drink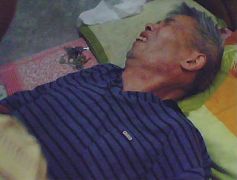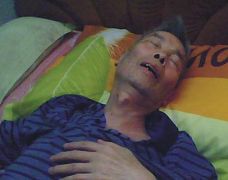 Xie Deqing has severe chest pain; he tries to turn over in bed with much difficulty

The Gaoxin District Court in Chengdu City put practitioner Chen Changyuan on trial on April 29, 2009. Xie Deqing and his wife tried to sit in the audience in support of Mr. Chen but were illegally arrested. Participating in the arrest were Fang Guofu and other officials from CHIDI, its Security Division, Funan Street Administrative Committee and Funan Police Station. Xie Deqing was taken to the "Chengdu Legal Education Center," also called the Xinjin Brainwashing Center, where he was held for about 20 days and severely abused during this time.
Mr. Xie changed from a robustly healthy, fit person into an emaciated, incontinent human being, unable to eat. He experiences severe chest pain. Officials Yin Decai, Bao Xiaomu and Wang Hongqiang laced his food and water with toxic substances. When Xie Deqing's condition became serious, they ordered Fang Guofu and other officials to take him home the evening of May 23, 2009.

Xie Deqing was in a coma for most of the next four days. He experienced excruciating chest pain when he came to and tried to turn over in bed. He died at 10:15 p.m. on May 27, 2009.

Xie Deqing's body was initially placed at his home at the CHIDI dormitory. Many cars with plainclothes police officers, 610 Office agents, security agents and officers from the Comprehensive Administration Office interrogated and searched people and cars that came to pay their respects. More than 100 riot police attacked Xie Deqing's family at his funeral, and beat and injured his two sons. The agents took Mr. Xie's body at 3:00 a.m. on May 29, 2009. Chengdu City 610 Office agents cremated the body at noon on May 30, 2009.
Since the onset of the Communist regime's persecution of Falun Gong on July 20, 1999, officers from the Qingyang District Police Department, from the Funan Street Administrative Committee, from the Funan Police Station, CHIDI, and agents from the Science Research Institute and the Residential Committee have closely monitored Xie Deqing and his wife Yu Qinfang. These officials followed the couple when they left home, ransacked their home, extorted money from them, and sent them to brainwashing centers and custody centers, because they persisted in following their belief in Truth-Compassion-Forbearance.

On September 19, 2005, Funan Office 610 Office head Yi Yun from Chengdu City called Xie Deqing and lied to him, saying he was going to give his son a job. He told Xie Deqing and his wife to report to the office the next day. Xie Deqing went as told, because he wanted to clarify the truth about Falun Gong to Yi Yun. A large group of police officers were waiting at the office and arrested Xie Deqing as soon as he showed up. They immediately sent him to Xinjin Brainwashing Center in Chengdu City, where he was tortured to near death.

His wife Yu Qinfang was at that time visiting her hometown and avoided arrest, but decided to live in exile to avoid arrest. She led a difficult life being homeless.

The couple's daughter-in-law Zhang Hong died as a result of mental anguish from the nonstop persecution and constant harassment, intimidation and threats from secret agents. Officials at the brainwashing center did not release Xie Deqing go home, to take care of Zhang Hong's funeral. Instead, they escalated the abuse.

After Xie Deqing returned home from the brainwashing center, he joined his wife in exile. CHIDI withheld their pension.

Over the past ten years, officials at CHIDI, including the Party Secretary and Deputy Secretary, Head of the Party Organization Department, the Security Department and several retirees, have committed numerous crimes against Falun Gong practitioners. They assaulted CHIDI employee Zhu Xuezhi and injured his legs. Following that they sent him to the Wumaping Prison, where he was held for five years. He had never been paid his back salary.
Other practitioners have also been persecuted; and some are not even allowed to leave home without permission. Their families are followed during every outing. CHIDI Party officials have tapped the practitioners' phones, and countless surveillance cameras have been placed in every corner of the CHIDI premise.

CHIDI Party officials excitedly shouted, "Great arrest! Great arrest!" when Xie Deqing and his wife were arrested on April 29, 2009. They followed Jiang Zemin's dictum in persecuting Falun Gong. In doing so they have sold their conscience for money and promotion.

The so-called "Legal Education Center" is a place of violence and coercion. Officials there bombard Falun Gong practitioners with vicious lies, and deceive them with fake kindness in order to make them renounce their belief. They physically torture them, inject them with nerve-damaging drugs, lace their food and water with the same drugs, force-feed them through industrial plastic tubes, extort money from them, and use all means to threaten and intimidate them. They have caused many practitioners to experience a nervous breakdown, permanent disability and even death, but are not held legally responsible.

Several practitioners were killed at Xinjin Brainwashing Center. These included Ms. Deng Shufen from Shuangliu County, Chengdu City who was in her 70s, 67-year-old Ms. Li Xiaowen from Shuangliu County, Chengdu City, and 53-year-old Ms. Liu Shenglu from Xindu District, Chengdu City, among others. Practitioners Zhu Xia, Liu Ying, Tan Shaolan and many others suffered a mental collapse at the brainwashing center. According to an internal source, more than 1,000 practitioners have been held there over the past decade.

Officials from the Street Party Committee and officers from the Funan Police Station have fanatically persecuted Falun Gong practitioners. They not only followed and monitored and arrested practitioners and sent them to prisons and labor camps, but they also ordered CHIDI to withhold the practitioners' salaries and pensions. Practitioner Huang Min died as a result of persecution in the hands of these officials.

Xie Deqing and his wife were persecuted for a long time at the hands of Funan officials and police. Funan officials took part in the couple's arrest on April 29, 2009 and they sent the practitioners to Xinjin Brainwashing Center, where Xie Deqing was tortured to near death and subsequently died at home.

CHIDI security officer Fang Guofu and others, including 610 Office agents from the Chengdu City Police Department Domestic Security Division, sent Xie Deqing home on May 23, 2009 when he was close to death. The same officials orchestrated the arrest of Xie Deqing and his wife by ordering officers from the Funan Police Station and CHIDI officials to arrest the couple outside the courthouse.
Members of the Chengdu City Police Department Domestic Security Division and 610 Office have been brutally persecuting Falun Gong practitioners over the past decade. They know all the practitioners in Chengdu City and even Sichuan Province. They dispatch secret agents to follow the practitioners, monitor their phone conversations and notify the police to arrest the practitioners. Then they tell officials at the Procuratorate and court to sentence the practitioners to prison and labor camps. They try to monitor every aspect of the practitioners' lives and are directly responsible for the deaths of many practitioners.

Contact information of responsible persons:
1. Chengdu City Politics and Law Committee (also the 610 Office)
City Police Department Domestic Security Division 610 group
2. Chengdu Legal Education Center, also called the Xinjin Brainwashing Center
Li Feng: center head who also works for the Chengdu City Party Committee 610 Office
3. Chengdu Hydroelectric Investigation and Design Institute (CHIDI)
Fang Guofu: CHIDI Security Division head, 86-1568833083 (Cell), 86-13908210800 (Cell)
Pan Sanmei: CHIDI Residential Committee head, 86-13880020617 (Cell), 86-28-87315521 (Cell)
Zhen Shengan: CHIDI head
Deputy heads: Zhang Jianyue, Chen Wuyi, Huang He, Zhi Xiaoqian
Zhang Xiaoqing: Party secretary
Hu Zhihong: Deputy Party secretary

4. South Shiren Road District
Yi Yun: Shiren Street Comprehensive Administration Office head, 86-13808084378 (Cell)
Wang Zhong: South Shiren District head, 86-13668290899 (Cell), 86-28-82919202