Belgian Practitioners Promote Falun Dafa at the "Joyful Festival" in Antwerp (Photos)
(Clearwisdom.net) On May 9 and 10, 2009, Belgian Falun Gong practitioners took part in an activity known as the "Joyful Festival" (Mano Mundo), held in Antwerp Boom. A total of 87,000 people joined in this year's activity. Many of them learned about the beauty of Falun Dafa and also heard about the Chinese Communist Party's (CCP) persecution of Falun Gong.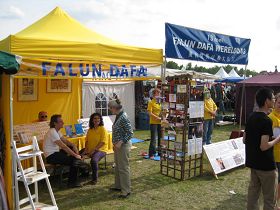 Visitors paused in front of the Falun Gong information booth and asked for informational materials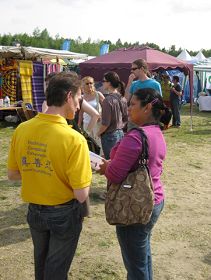 Falun Gong practitioners talk to passers-by
At the Falun Gong booth, practitioners demonstrated the Falun Gong exercises and distributed informational materials and paper lotus flowers. Practitioners also made available printed postcards for people to send to the Belgian Prime Minister, asking him to help call for an end to the persecution in China. Many people took the postcards and said that they would mail them.
A shadow-boxing teacher, who has taught shadow-boxing for fifteen years, also came to the booth. He had already learned a little about Falun Gong somewhere else and was happy that he found the books Zhuan Falun and Falun Gong. Several other people also purchased copies of Zhuan Falun.
A fourteen-year-old boy who had studied shadow-boxing for a long time came to the booth, and expressed his wish to learn Falun Gong. He join the exercise group. He said that he could immediately feel the energy of the exercises. Later on he helped practitioners hand out truth-clarification materials.
When a practitioner introduced Falun Gong to an elderly lady, she said that she could feel the strong energy emitted from the practitioners.
A couple from Antwerp said that their daughter had spent many years in China to study and work, and she was very familiar with the oppression of people living in China. They also knew about the CCP's atrocity of organ harvesting from living Falun Gong practitioners persecuted in China. They said, "What a shame, such a miserable thing happening in a beautiful country."
Many visitors had already heard about Falun Gong and the persecution in China, but some did not understand what Falun Gong was. They were very happy for the opportunity to learn more about Falun Gong at the festival.