Taiwan: Preliminary Round of International Vocal Competition, Asia-Pacific Region, Concludes with Great Success (Photos)
(Clearwisdom.net) The 3rd NTDTV Chinese International Vocal Competition completed its preliminary round in the Asia-Pacific Region on June 20 at the National University of Tainan.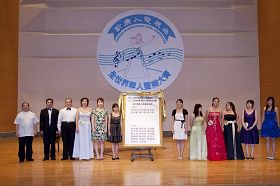 Twenty-three contestants made it out of this regional round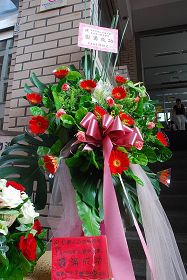 The Mayor of Chiayi sent this congratulatory flower arrangement
The preliminary round of the competition was held at Tainun. Prior to the competition, the Taiwan Presidential Office sent a congratulatory letter to the competition organizing committee. The competition also received congratulatory flower baskets and couplets from elected officials from various levels.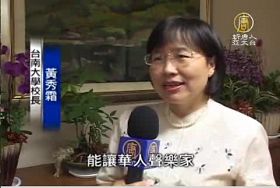 Dr. Hsiu-Shuang Huang, President of the National University of Tainun
Dr. Hsiu-Shuang Huang, President of the National University of Tainun, and De-lin Li, Dean of the Performing Arts College of the university, expressed their full support for the competition. Dr. Huang said that the first NTDTV Piano Competition was also held at the university, and she looked forward to future opportunities to work with NTDTV.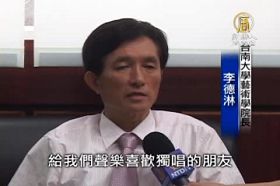 Mr. De-Lin Li, Dean of the Performing Arts College of the National University of Tainan
Professor Li said that the vocal competition is of great significance, and he encouraged his friends and teachers at his college to participate. He hoped that this competition would enhance Chinese people's understanding of the vocal performing arts.
Guimin Guan, an internationally acclaimed tenor and a judge of the competition, said that a goal of the competition was to facilitate a return to traditional culture. Chinese people in the past emphasized virtue more than technical skill. This competition similarly values personal cultural achievement rather than technical skill.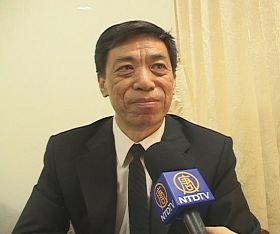 Guimin Guan, acclaimed tenor and judge at the competition
Mr. Guan said that a stage performance will reveal everything of a vocalist. "A vicious person will have such a look in his eye. A petty person will carry himself that way on stage. When a contestant is on stage, we can see into his or her heart. If a contestant is focused on nothing but winning, he or she will not devote themselves wholeheartedly to expressing the song itself. You will sense that right away."
Ms. Chen, an organizer for the event, said that the majority of the contestants are students from music departments at various universities. Some are music professors or instructors. While the competition took place at the busiest time for universities, many vocalists registered for this competition. "This is because they recognize and support the mission of this competition," said Ms. Chen.
Mr. You-Xiong Lin, a music professor at the National University of Tainan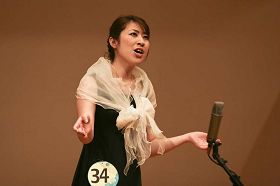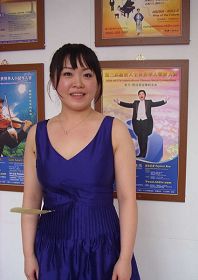 Music PhD candidate and contestant You-Qian Zhou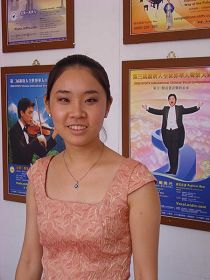 Music graduate student Jia-Ying Zhan, who finished in first place in the Taiwan Region during the 2008 Japan Classical Music Competition
After the preliminary round, 23 out of 46 vocalists were selected to participate in the semi-final round, which will take place in New York.