Two Congressmen Request the Release of Two Practitioners Imprisoned in China (Photos)
(Clearwisdom.net) Falun Gong practitioners Cao Junping and Cao Junfeng from Weifang, Shandong Province have been unlawfully detained in Qizhou Detention Center and Changle Detention Center, respectively, for nearly 11 months. Righteous voices to rescue them were posted in multiple media outlets. US congressional representatives wrote letters to urge the Chinese Communist Party (CCP) regime to immediately release the two practitioners and called on the US government to pay attention to the CCP's escalating persecution of Falun Gong practitioners.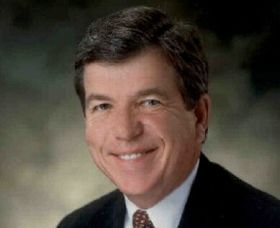 US Congressman Roy Blunt
US Congressman Roy Blunt (Missouri) wrote to Chinese Ambassador Zhou Wenzhong before the Beijing Olympics last year and urged the CCP regime to immediately release Ms. Cao.
Recently, Mr. Blunt wrote to the ambassador again and requested the CCP regime to release Ms. Cao, mother of Missouri resident Ms. Jin Pang. He stated in the letter, "Unfortunately Cao Junping remains jailed and has not been charged or tried. Additionally, thousands of dollars in confiscated personal property have not been returned or compensated for. Finally Cao Junping's sister Cao Junfeng has been now detained as well under similar circumstances.
"Xioaqiang Pang and Cao Junping's daughter is a student at Missouri State University, which is in my district. Since her parents were arrested last summer, she has worked tirelessly to educate the public and elected officials about what happened in this case. I hope to be able to deliver good news to her that her mother and aunt can freely reunite with their families very soon.
"I am hopeful that you will once again look into this situation and see if anything can be done to help secure the release of Cal Junping and Cao Junfeng as soon as possible."
Letter from Roy Blunt to Chinese Ambassador Zhou Wenzhong: http://pkg2.minghui.org/mh/2009/6/10/Blunt.pdf
US Congressman Roy Blunt's letter to Chinese Ambassdor Zhou Wenzhong
US Congressman William Lacy Clay
Another US Congressman William Lacy Clay (Missouri) wrote to US Secretary of State Hillary Clinton about the issue. He stated in his letter, "Ms. Pang's mother, Cao Junping, lives in Weifang City, Shandong Province, China. One week before the 2008 Olympics in Beijing, Ms. Cao Junping was arrested for no reported reason, other than that she is a Falun Gong adherent. According to her daughter, their family home was ransacked and many valuable possessions were confiscated by the Chinese police. Since that day, Ms. Cao has been held in a detention center in Weifang City. She has not been charged or tried for a crime and no family visits have been allowed. Ms. Pang's aunt, Cao Junfeng, also a Falun Gong practitioner, was arrested at the same time as her mother, and continues to be detained.
"My constituents have expressed concern that Chinese officials may be escalating the persecution of Falun Gong practitioners since the recent Olympics. The Falun Gong Information Center has charged that the government of China arrested more than 8,000 citizens and executed more than 100 last year. The Falun Gong Information Center also maintains that the city of Weifang is an extremely dangerous place for Falun Gong practitioners, as torture is routinely used there and many detainees have been tortured to death.
"I share Ms. Pang's concern for the safety of her family members. I believe that the cases of Ms. Cao Junping and Ms. Cao Junfeng warrant the attention of your office and I respectfully request that you take every appropriate action to protect the basic human rights of Falun Gong practitioners in China."
US Congressman Lacy Clay's letter to US Secretary of State Ms. Cliton
Letter from William Lacy Clay to Secretary of State Hillary Clinton: http://pkg2.minghui.org/mh/2009/6/10/Clay.pdf