Taiwan: Falun Gong Parade Promotes the Truthfulness-Compassion-Forbearance Art Exhibition in Taipei (Photos)
(Clearwisdom.net) Falun Gong practitioners in Taiwan held a parade on the afternoon of June 7, 2009 in Chunghe City, Taipei County. They wanted to inform local people that the Truthfulness-Compassion-Forbearance Art Exhibition was to be held in their area.
The parade was led by the Divine Land Marching Band, and following the band were the "celestial maidens" dance team, young practitioners' waist drum team, flag and drum team, exercise demonstration team and adult practitioners' waist drum team. The procession was large, drawing attention from many passersby. They were happy to take flyers about the art exhibition and receive beautiful handmade paper lotus flowers.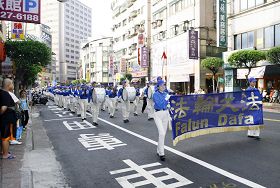 A large procession marched on the afternoon of June 7, 2009 in Chunghe City, Taipei County, drawing attention from many local people.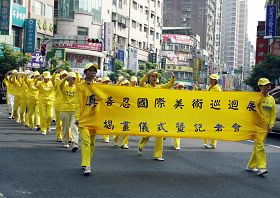 Exercise demonstration team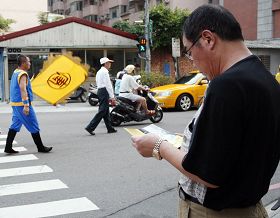 Spectator takes a flyer about the Truthfulness-Compassion-Forbearance Art Exhibition
Wherever the parade procession passed by, they received a warm response from locals. Many business owners watched from their stores, some parents brought their children out to watch, and many people took pictures with their cell phones.
An elderly lady leaned against the door of her store, watching with a beaming face while the procession was passing by her. Some people sat on steps to read the flyers they just received. Many people inquired about the time and venue of the art exhibition.
People were impressed by the painting shown on the flyer's cover. It was a scene from the streets of Manhattan on a rainy day. In front of the Empire State Building, a little girl carried a placard bearing the message "Killed for their belief," quietly facing pedestrians passing by. The entire street was soaked by the rain, the girl's raincoat was wet, and it was hard to tell if they were raindrops or tears on the little girl's pure and beautiful face. The little girl's eyes were sincere and penetrating. Many people thought this painting was a photograph. When told that it is a painting, they exclaimed, "It's so vivid, unbelievable."
A practitioner surnamed Xie brought her eleven-year-old daughter and five-year-old son with her to distribute flyers. She said in a happy tone, "Over the past ten years, through the continuous truth clarification efforts of Falun Gong practitioners worldwide, many people have seen that Falun Gong is great. Many people took flyers along the parade route. And many people said, 'Thank you! We'll go to the art exhibition. Falun Dafa is great!'"
Over 200 Truthfulness-Compassion-Forbearance Art Exhibitions have been held in over 40 countries on five continents. From June 3 to 14, 2009, the art exhibition will be held in Lexue Hall of Taiwan Branch B1 of the National Central Library in Chunghe City, Taipei County. Through traditional painting techniques, the artists depicted real stories that Falun Gong practitioners have experienced, displayed the magnificence of Falun Dafa and glorious journey that the practitioners have gone through while living by Truthfulness-Compassion-Forbearance. Their works manifest brightness, pure righteousness, compassion and beauty.