Vancouver: Falun Gong Practitioners Celebrate the 10th World Falun Dafa Day (Photos)
(Clearwisdom.net) On May 17, Falun Gong practitioners from Vancouver held activities in front of the City Art Center to celebrate the 10th World Falun Dafa Day.
The Divine Land Marching Band performed several songs. Practitioners performed traditional Chinese dances and waist drums. They also demonstrated the exercises. Many people were drawn to the performances. They took photos and accepted truth-clarifying materials, and some of them learned the exercises.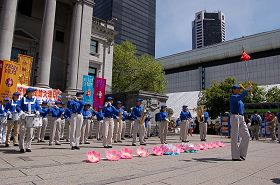 The Divine Land Marching Band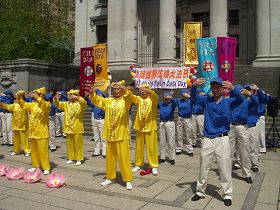 Demonstrating the exercises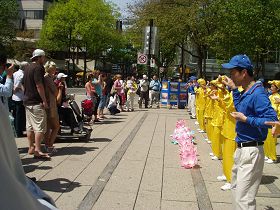 People take photos of practitioners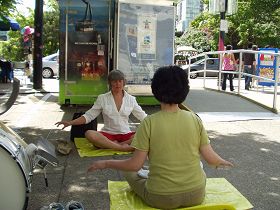 Michile Routhier learning the exercises
Mary, a resident of Vancouver, said that people usually don't pay much attention to the activities in front of the Art Center, but many people were drawn to the Falun Gong activities, and she thought that was amazing. She asked for detailed information about learning the exercises.
A woman passed by the Art Center with her five-year-old daughter. The little girl was mesmerized by the exercises and didn't want to leave. The mother and daughter stayed and watched the performances for an hour. The mother said that she wanted to learn the exercises.
Michile Routhier is a health consultant. She heard about Falun Gong in front of the Chinese Embassy five years ago and has been concerned about it. Today, when she saw the practitioners again, she decided to learn the exercises. "I feel excellent. I felt a strong energy field," she said. "I appreciate this opportunity. I have found my own path."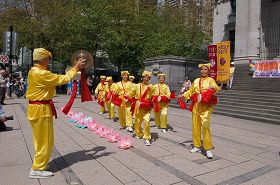 Waist drums
Mr. Ma moved to Vancouver from Shanghai six years ago, and he started practicing Falun Gong in 1994. He had high blood pressure, which disappeared after he began to practice Falun Gong. He said that he now regards a whole list of things, such as money and fame, lightly after he began cultivating Falun Gong.
He said that the Chinese Communist Party has been persecuting Falun Gong for 10 years, but Falun Gong has spread to 114 countries, and more and more people know about the beauty of it.
Mr. Chen talked about how he began to cultivate in Falun Gong. He moved to Vancouver six years ago and learned about Falun Gong after the persecution had started. A practitioner told him the facts about Falun Gong and lent him a copy of Zhuan Falun. He read it carefully and realized that it was what he had been looking for. In 2000, he started practicing Falun Gong, and now his wife, son, and parents are also practicing it.
Young practitioner Shanshan said, "I was shy and easily got mad. I didn't want to hang out with my classmates. After I started practicing Falun Gong, my classmates said I became nicer. I don't pay too much attention to grades anymore, but only try my best to study, and I am doing better and better in school."