Cultivating Truthfulness-Compassion-Forbearance Benefits the Human World, Part I (Photos)
May 13, 2009 | By Gao Feng, Clearwisdom reporter
(Clearwisdom.net) Since Falun Dafa (or Falun Gong) was taught to the public in May 1992, millions of people around the world have become practitioners. Practitioners have experienced significant changes in their health and in xinxing (mind or heart nature). Falun Dafa is now practiced in over 80 countries and regions around the world, has benefited over 100 million people from both physical and emotional perspectives, and has been accepted and recognized by people from all walks of life.
In recent years, international communities have presented various awards to Mr. Li Hongzhi, founder of Falun Dafa, because of the outstanding contribution of Falun Dafa to humanity in mental and physical health. All levels of governments, parliaments, non-governmental organizations, and other civil society groups, especially in North America, Europe, Asia and Australia, have recognized the excellent results for enhancing moral standards, purifying people's hearts and keeping fit - all benefits to the countries and their people due to Falun Dafa. According to incomplete statistics, there have been 1,540 various awards given to date from all walks of life, including certificates of merit, trophies, medals and award banners. Currently, 234 legislative supportive bills were passed along with 2,552 supporting letters.
Dafa Is Well-Received in Taiwan; Tens of Thousands Benefited
It has been 14 years since Falun Dafa was introduced in Taiwan in 1995. Approximately one thousand practice sites have been established in over than 300 towns in Taiwan, hosting more than 500,000 Falun Gong practitioners. Among these practitioners, there are professors, doctors, lawyers, engineers, civil employees, policemen, businessmen, students, housewives, and others. Falun Gong was officially recognized by the government and communities. Because Falun Gong emphasizes virtue and cultivating xinxing, improvements in health have been obvious. Free and open to join or leave, Falun Gong has won widespread support in Taiwan.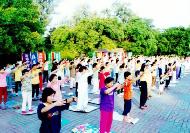 Falun Gong Practitioners Group Exercise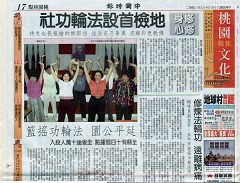 China Times Report: Prosecutor Association Formed Falun Gong Community Group
The following are seven examples of practitioners from Yilan, Tainan, Taipei, Yungho, Hualien, Kaohsiung and other places.
(1) "Hung Dao Award" Winner, Principal Hung Tengsiang
On September 26, 2008, Falun Gong practitioner Mr. Hung Tenghsiang, principal of the Huideng High School in Yilan County, Taiwan, won the 22nd "Hung Dao Award" issued by the Private Education Association in Taiwan. This is the highest award and honor available for a private school teacher in Taiwan, and is equivalent to the governmental Best Teacher Award. Taiwanese President Ma Yingjeou interviewed Hung Tengxiang on October 23, 2008.
A detailed report on Mr. Hung can be found on Clearwisdom.net at: http://www.clearwisdom.net/emh/articles/2008/11/1/101911.html.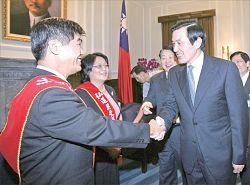 Taiwanese President Ma Yingjeou (right) greets the ten Outstanding Teacher "Hung Dao Award" winners at the Presidential Palace. Falun Gong practitioner Hung Tengxiang (left), principal of Huideng High School, won the award.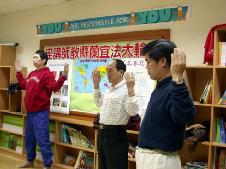 On January 26 and 27, 2005, Huideng High School hosted a teacher study camp. Principal Hung (right) organized the event and demonstrated the Falun Gong exercises.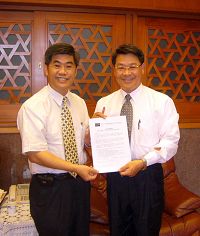 Principal Hung Tengxiang (left) often clarifies the truth to senior government officials. On April 21, 2008, Principal Hung and other Yilan practitioners visited Yilan County Magistrate Lu Guohua, and exposed the evil deeds committed by the Chinese Communist Party (CCP) persecuting Falun Gong. Magistrate Lu Guohua and other county officials then signed their names for the "Millions of Signatures Global Campaign" movement resisting persecution and condemned the CCP for persecuting Falun Gong.
(2) Physics Olympiad Gold Medalist Wu Zhipan
In July 2004, the 35th International Physics Olympiad was held in Korea. There were 332 participants from 73 countries. Wu Zhipan, a high school student from Tainan, was among the 31 gold medalists. He was the only gold medalist of the five contestants from Taiwan.

Wu Zhipan wins gold medal at the 35th International Physics Olympiad.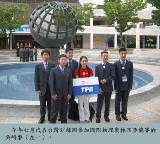 Wu Zhipan (left) wins gold medal at the 35th International Physics Olympiad.
* Lead a Child with Truthfulness-Benevolence-Forbearance
Huang Huiyan, Wu Zhipan's mother, is currently a high school teacher. A colleague introduced her to the book Zhuan Falun and the five Falun Gong exercises. Her life changed significantly. Huang Huiyan said that she thought cultivating Truthfulness-Benevolence-Forbearance would be easy. To her surprise, after beginning to practice, she found that there was a lot to learn with deep meaning, and other extraordinary things. She introduced the principles of Falun Dafa into her child's life. She has completely changed her attitude towards life.
* Guaranteed Admission to the Physics Department of National Taiwan University
Wu Zhipan chose to participate in the three-week-long national training for a series of international competitions in order to win the opportunity for guaranteed admission to the university. This required a great effort, and he treated everything seriously with the guidance of Dafa. When he became sick or felt pain, he said: "Forbearance is to put everything down, or take it lightly. It is not forced forbearance. I am healthy in two days." When he learned that he was among the eight nationalists chosen, "attaining naturally without pursuit," taught in Zhuan Falun, appeared in his mind. Subsequently, he won the Asia silver medal at the Vietnam competition, and received the guaranteed admission to the Physics Department of National Taiwan University.
The day before he went to the Korea competition, Huang Huiyan left a note in a pocket of Wu Zhipan's jacket. The note urged him to remember the Dafa principles, and to face everything in his life with a cultivator's attitude.
Two weeks later, he won the international gold medal.
(to be continued)