Kindhearted Rural Woman Abducted, Sent to Forced Labor Camp, and Tortured to Death by CCP Officials (Photo)
(Clearwisdom.net) Ms. Shi Yongqing, 35, from Qizhou Township, Anguo City, Hebei Province, used to suffer from poor health. After taking up the practice of Falun Gong she became healthy by living according to the principles of Truthfulness-Compassion-Forbearance. Unfortunately, the township Communist Party (CCP) secretary abducted her and later sentenced her to forced labor. She died on January 9, 2004, as a result of gross abuse and mistreatment at the hands of personnel from the police department, the Political and Judiciary Committee, and the 610 Office in Guoan City, as well as local officials in Qizhou Township.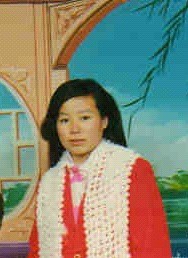 Shi Yongqing
When the CCP persecution of Falun Gong began on July 20, 1999, Ms. Shi went to Beijing again and again to appeal for Falun Gong and was detained many times. Following the gross abuse and mistreatment she was subjected to in Baoding Forced Labor Camp in 2001, she became somewhat mentally confused.
Local 610 Office head Liu Jiantao sent Zhang Dong, An Shujie, and Hua Yueyong to frequently harass her at her home. The then Qizhou Township Party secretary was worried that he might be held responsible if Ms. Shi went to appeal again, so he threatened her and told her if she did not leave and get married outside the region, he would tell someone to rape her. Not long after, she was abducted and sold to a man in Ding Village, Ding County. She was deprived of her personal freedom, and her residency registration was also transferred to Ding County.
Ms. Shi was subjected to frequent beatings and rape. She took legal action against Party secretary Cao for the crimes of kidnapping and selling women and children. This resulted in additional persecution and a stay in a forced labor camp.
Ms. Shi was detained in Baoding Forced Labor Camp and was later sent to the Zhuozhou Brainwashing Center, where she remained until she was close to death. Communist thugs then left her in the courtyard of her home when no one was home.
On January 9, 2004, relatives in her parents' home received a notice ordering them to claim her body in the Guoan County Hospital. When they got there, personnel from the police department and the Political and Judiciary Committee were also there. They threatened her relatives and ordered them to take her body and bury it; otherwise, the police department would deal with it themselves.
Her relatives wanted to have an autopsy performed to ascertain the cause of her death, but the police stopped them, saying it would not make any difference. In order to prevent her relatives from taking the matter further, the police gave them 1,000 yuan. They duped her relatives with lies, saying that they would help her father get a minimum guaranteed pension, a promise they never honored. They promised further that her son would be exempt from having to pay school fees. (Shi Yongqing's relatives had to argue their case many times before it was finally dealt with.). Her body was put in a coffin and buried. When she was buried in her hometown where her parents lived, officials sent people to monitor the whole procedure and did not leave until they made sure that the body was buried.
Ms. Shi Yongqing's death left her son without anyone to look after him. In the end, her elderly maternal grandfather took up the responsibility to care for the boy, while the other relatives did not dare to say anything. This heavy blow affected the old man severely. He became blind in one eye and has shown symptoms of a stroke. Still, he has to go out to collect manure to earn a pitiful income to pay for the boy's school tuition.
Shi Yongqing's son had not seen his mother for years before she died. He is now faced with the possibility of having to drop out of school and is living a very hard life.
Responsible personnel for Shi Yongqing's torment and abuse"
610 Office head in 2004 Liu Jiantao
Domestic Security Division head Xue Xian
Deputy head Zhang Lian
Policemen An Shujie and Hua Yueyong
Zhengzhang Township Party head Liu Yongjun