Introducing Falun Dafa in India, Part I (Photos)
(Clearwisdom.net) It has been seventeen years since Falun Dafa (also known as Falun Gong) was first introduced to the public in May 1992. Falun Dafa takes the universal characteristics Truthfulness-Compassion-Forbearance as its principles, and practitioners have in general achieved good physical health, and upgraded their morality. Within several years, Falun Dafa spread all over China, and was warmly received by the people. On July 20, 1999, the Chinese Communist Party and Jiang's clique, out of jealousy, launched a brutal persecution against Falun Gong. However, the truth won't be overshadowed by power and violence. People who have kind thought have been inspired by the Fa principles of Truthfulness-Compassion-Forbearance. Falun Gong has not been defeated by torture and lies; instead, with practitioners' peaceful efforts to clarify the facts, Falun Gong has been spread to five continents. India, known as Land of Buddha since the ancient times, is also blessed by Dafa.
India Falun Dafa Association Founded
Falun Gong values virtue and cultivates kindness. There is a tremendous effect on healing illnesses and keeping fit. Falun Gong does not charge money. There is no membership, people come or go as they please. Falun Gong is spread in society by word of mouth, without advertizing, and has won people's hearts all over the world.
India is the land where Shakyamuni imparted his Dharma, so it has been known as the Land of Buddha since the ancient times. The Indian people are receptive of Falun Dafa. The India Falun Dafa Association was registered in Mumbai in September, 2004, and has since been recognized by the Indian government. India, as a country with an ancient civilization, and whose population ranks No.2 in the world, has also been bathed in the Buddha's light of Falun Dafa. People who obtained the Fa spread the good news to others, and more people have thus been introduced to Falun Dafa and started practice.
The Indian version of the book, Falun Gong was published in February, 2003, and practice sites have been set up in many big cities, including Mumbai, New Mumbai, Pune, Hyderabad, Bangalore and New Delhi.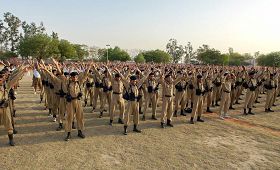 On April 13, 2009, more than a thousand students at the Police Training College in Delhi, capital of India, do the Falun Gong exercise.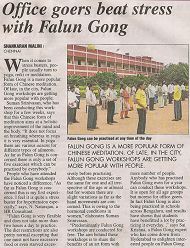 The Indian newspaper Deccan Chronicle published an article on June 13, 2007 stating that Falun Gong's free exercise teaching classes have become more and more popular.
Teachers and students in over 80 schools practice Falun Gong in PE classes
Bangalore has the largest number of people practicing Falun Gong in India. At present, teachers and students in over 80 schools practice Falun Gong. In some schools, more than 3,000 students do the exercises in their PE classes. In Chintamani, a town near Bangalore, Principal Verkey of Jyothi School is a Catholic priest and principal. After personally practicing Falun Gong and having had the experience of Falun Gong's amazing effects, he shared his experience with teachers and students in his school. After practicing Falun Gong, both teachers and students noted that they had achieved better physical health. What is amazing is that some naughty students changed and became well-behaved and attentive in class, and they have generally made progress in their schoolwork.
For students keen on Falun Gong, the school especially arranged two classrooms for them to read Falun Gong books, which set a precedent in schools in India. In order to let practitioners have an independent place to study the Falun Gong books, exchange understanding and insights and do the exercises, Principal Verkey invested his life savings to purchase a piece of land of several acres near the school, and built a house for studying the Fa and doing the exercises. A general lack of medical resources in Indian society makes Falun Gong, which is taught completely free of charge, a gift from heaven.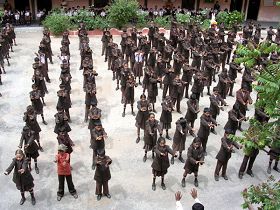 Students in Jyothi School do the exercise together in a large group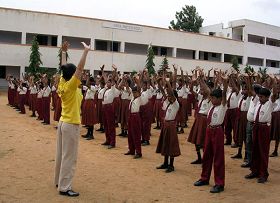 Teachers and students in Vidya Jyothi School do the exercise together in a large group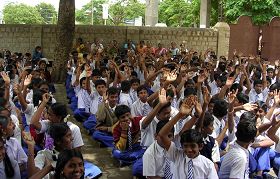 When asked if they like or if they want to practice Falun Gong, the teachers and students shouted, "Yes," and held up their hands to express that they want to practice Falun Gong.
Principal Verkey shared his cultivation experience of Falun Gong at a nationwide conference of principals with outstanding achievements in India, and his sharing aroused great interest in other principals from across India. They expressed their desire to invite Falun Gong practitioners to come to their schools to teach Falun Gong. Thus, Falun Gong has been rapidly spread in over 40 schools where Falun Gong is practiced in their PE classes. Both students and teachers have gradually improved their physical health and mental well being.
"Lun Yu" compiled into textbooks, precedent in India
Principal Mr. Sri Ram Reddy of Byreshawara School said that his school has added the English version "Lun Yu" [Preface of Zhuan Falun] in Zhuan Falun to their English textbooks, and placed it in the front, which initiated a precedent in India. There are more than 2,000 students in this school, and many teachers do the exercise and read the Falun Gong books on a daily basis. They are active in promoting Falun Gong.
Akhila, a teacher of the school lives near a park, where 60 people do the exercise in a group every morning, a result that Akhila has achieved from years of promoting Falun Dafa. There are many religions in India, and it is not easy for people change their original belief, but the Indian people are fortunate to receive the blessings of Falun Dafa.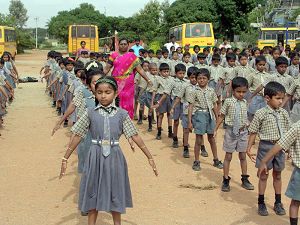 Students in Byreshawara school do the Falun Gong exercises in a large group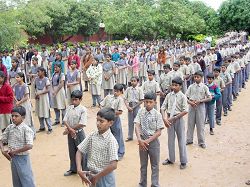 High school students at Byreshawara school do the Falun Gong exercises in a large group
(To be continued)