Houston: Cultivation Experience Sharing Conference Held to Welcome World Falun Dafa Day (Photos)
May 10, 2009 | By Shu Jing
(Clearwisdom.net) As World Falun Dafa Day approaches, Falun Gong practitioners in Houston, Texas held a cultivation experience sharing conference from 7 p.m. to 11 p.m. on May 8.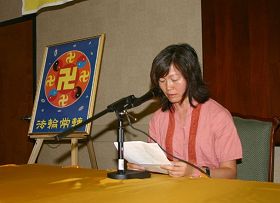 A practitioner shares her cultivation experience in the conference
A practitioner shares his cultivation experience in the conference
Ms. Yang shared her experience in promoting the Shen Yun show. She has two young children and it was not easy for her to join others to distribute flyers outdoors. Another practitioner helped her and she had more chances to promote the show. She said, "Even if there were only two practitioners at the ticket selling site, cooperation is still important. Otherwise, ticket selling would be stalled since the old forces take advantage to interfere. If one complains or criticizes others, he or she invites interference. Righteous thoughts are important to clear the interference and the misunderstanding between practitioners."
Mr. Li shared his experience, "Before going to promote the Shen Yun show at a supermarket, preparation of various types of information is necessary since people wish to know different things. It is also an opportunity for people to learn about Falun Gong."
Mr. Huai lived in China for 61 years before moving to US and has experienced many things. He felt he knew China well and that it would be easy to explain the facts to the Chinese people. He decided to make phone calls to clarify the truth. He shared his experience, "In the past few years, I kept calling China to spread the Nine Commentaries on the Communist Party and promote withdrawals from the CCP and its affiliated organizations. At the beginning, the number of people quitting the CCP was small. I realized that it was difficult to save Chinese people since they were poisoned by CCP culture. Their thinking and language are all from CCP culture. How could I blame them? I was like them before I came here. They need to know the facts. Later I examined reasons, studied Fa, kept righteous thoughts, and learned from others. The effect of calling became better. I actively explained the facts and promoted quitting the CCP. Recently more people hear me out and quit the CCP."
Jiu Xin is a nine-year-old practitioner. He shared his experience, "Learning Dafa improved my language proficiency. I read Zhuan Falun in Chinese since I was three years old. I have read it 69 times. The first thing I do after returning home from school is to read 15 to 20 pages of Zhuan Falun. I read 10 to 15 pages Zhuan Falun in English when waiting for the school bus in the morning. My Chinese proficiency is improved since I did not learn other Chinese textbooks. Now I can read Chinese books and newspapers."
Jiu Xin did not learn English at home before attending school. Reading Zhuan Falun in English also helps him to improve his English proficiency. "Last summer, I read Zhuan Falun with other young practitioners of Minghui School online. We read the whole book twice. I could read Zhuan Falun in English. I was so happy. My English proficiency was number one in my class when I went to school in grade two. I did not read other English books. I participated in a spelling bee this year in grade three. I did not spend much time to practice. Among several hundred students in grades three to five, I was selected as one of the 23 competitors and won third price."
Ms. Tang shared her experience in explaining the fact online, "One year ago, we set up an online group to spread the Nine Commentaries on the Communist Party and promote withdrawals from the CCP and its affiliated organizations. Every day, many people in China looked for us to learn the true situation. When I went online, visitors were waiting for us or joined in. I often encouraged those who quit the CCP to help their relatives and friends to quit CCP."
She also shared, "Initially, I often argued with others by copying and pasting large paragraphs of words to refute their words. After explaining a long time, the other side did not understand the facts. I could not break through my attachment to fighting and staying high above others. Later, I looked inward and found that when the other side became understanding and quit the CCP it was time I put down my attachment to myself and think of others with a compassionate heart. In the past year, my compassion has increased. Facing the curses of others, I am not angry, but feel sorry for them. I continue giving chances to help them understand what is really going on."