Shen Yun Performing Arts Welcomed in Brisbane, Australia (Photos)
April 09, 2009 | Compiled by Clearwisdom staff
(Clearwisdom.net) Queensland State Government officials enthusiastically welcomed the Shen Yun Performing Arts 2009 World Tour to Brisbane, Australia's third-largest city.

In a written welcoming address, Brisbane's Lord Mayor Campbell Newman expressed the importance of Shen Yun's global tour to both Brisbane and international communities.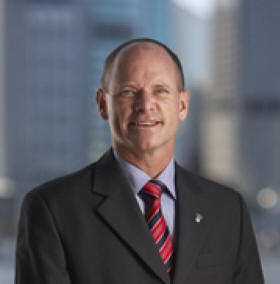 Brisbane's Lord Mayor Campbell Newman (Courtesy of BCC)
"In building communities, we understand the importance of cultivating identity, remembering histories, and the exploration and expression of shared cultures," he said. "The magnificent tour is one example of how this is achieved at an international level.

"Year after year, thousands of people around the world can experience and learn of the myths and legends that make up 5,000 years of Chinese history and culture."

The mayor of Moreton Bay, Allan Sutherland, welcomed Shen Yun on behalf of the residents of his region and the wider South-East Queensland community. "Here in Moreton Bay, we have a strong multicultural and Chinese cultural heritage--among others--it is woven into many aspects of our society," he said. "We also have a strong association with the arts and therefore I'm sure your performance will bring a great deal of pleasure to many."

Mayor Ron Clarke of the Gold Coast sent his congratulations to Shen Yun, saying how "appropriate" that the visit takes place during the Chinese Year of the Ox--stable and persevering. The Ox is known for its fearlessness and great capacity for hard work, virtues he attributed to Shen Yun artists.

"Ultimately, all lives and societies are enriched by the dedication these incredible performers show in presenting their artistic excellence so extensively."

Government representative and Member for Barron River, Steve Wettenhall, was pleased to welcome Shen Yun to Australia. "I am sure the people of Australia will be touched and awed by the breathtaking pageantry which evokes themes of the pursuit of Truthfulness-Compassion-Tolerance and of respect for China's divinely-inspired culture." "Performances such as this enable the preservation of aspects of traditional culture in danger of being lost forever."

The state member for Burleigh, Christine Smith, congratulated those who put so much effort into bringing the show to Australia. She wrote, "The merging of Eastern and Western cultures can only bring understanding, tolerance and peace to our world."

Independent member for Nanango, Dorothy Pratt, also wished Shen Yun every success. She was aware that the Shen Yun Chinese performers have been highly-acclaimed in the past in Australia and had no doubt they will be again.

Member for Lilley and Federal Treasurer Wayne Swan was equally delighted to welcome Shen Yun to Australia. He said he was sure Australia would join the rest of the world in celebrating the beauty of China's rich culture and history through the artistry of dance and music. He urged Australians to support Shen Yun's "2009 Spectacular."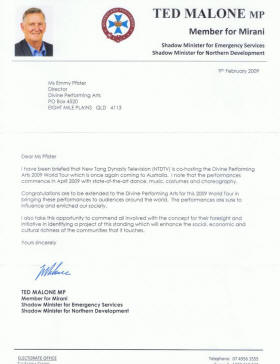 Member for Mirani, Ted Malone, sent his welcoming message
Member for Mirani, Ted Malone, also extended his welcome. He was certain the Shen Yun production would enrich and influence society.

Mr. Song Wen Cheng, head of the Taipei Economic and Cultural office in Brisbane, also sent along his congratulations and well wishes.

The New York-based company will perform at the Queensland Conservatorium Theatre for six shows starting on Thursday April 9 at 2:00 p.m. and 7:30 p.m., Friday April 10 at 7:30 p.m., Saturday April 11 at 2:00 p.m. and 7:30 p.m., with a 2:00 p.m. matinee on Sunday April 12, before traveling to Toowoomba for a performance at the Empire Theatre on Monday April 13 at 7:30 p.m.
Source: http://theepochtimes.com/n2/content/view/14987/