Truthfulness-Compassion-Forbearance Art Exhibition Held in Singapore (Photos)
April 23, 2009 | By Shi Xin
(Clearwisdom.net) The Truthfulness-Compassion-Forbearance International Art Exhibition, which has been held all over the world, came to Singapore on April 19, 2009. The art exhibition, organized by Falun Buddha Society (Singapore) at Excelsior Hotel, attracted people of different nationalities to come and appreciate it. Xiaodan from China who is studying in Singapore, said that the exhibited works are touching. The painting "Buddha," in particular moved her almost to tears.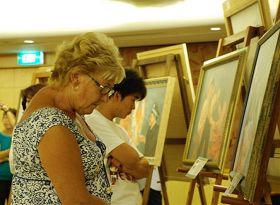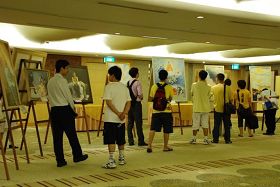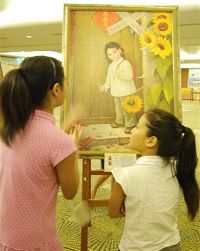 Truthfulness-Compassion-Forbearance International Art Exhibition held at Singapore's Excelsior Hotel attracted people of different ethnicities and different social strata.
Mr. Zhang, a guide, introduced the viewers to the works displayed at the art exhibition and explained that they are by a number of accomplished artists from around the world who practice Falun Gong. Through cultivating the Falun Dafa principles, Truthfulness-Compassion-Forbearance, these artists creations contain in them the wonderfulness of these noble principles. At the same time, they expose through the artworks, the persecution of Falun Gong in China, so that more people will be aware that many Falun Gong practitioners in China are still suffering this painful ordeal that they should not endure.
Xiaodan, a Chinese student in her 20's studying to be a nurse in Singapore, said that the exhibited works were touching. She was particularly touched by "Buddha," created by professor Zhang Kunlun. She said that the "Buddha" is so solemn and compassionate, emitting a peaceful and harmonious light. Xiaodan, who has studied in Singapore for eight years, said that the police of the Chinese Communist Party (CCP) in China are very cruel while persecuting Falun Gong practitioners. She believes that the righteous will ultimately triumph over the evil, and encouraged Falun Gong practitioners to keep up their efforts.
Eric, a Christian who has grown up in Singapore, said that he gained a clear understanding of the CCP's brutality in the persecution of Falun Gong practitioners through the art exhibition. He was deeply impressed by the painting "Coming for You" which depicts 36 western Falun Gong practitioners who traveled to China and told Chinese people at Tiananmen Square that "Falun Dafa is good." He said that he had not thought that the CCP would be so cruel to western practitioners, too. Eric, whose major is music, said the background music 'Pu Du' and 'Ji Shi' at the exhibition hall were peaceful and serene.
Besides Chinese people, the art exhibition also attracted people from other ethnicities and nationalities. Some viewers from Pakistan said that they recognized Falun Gong from the art exhibition. They also felt Falun Gong practitioners were very sincere and friendly. Through the art exhibition guide's explanation, people viewers gained deeper understanding of the facts about Falun Dafa.