Ms. Zhang Zhiqin Detained and Beaten Mercilessly (Photo)
(Clearwisdom.net) Ms. Zhang Zhiqin, 47, is originally from Qingyang County, Fushun City. She is now a Dafa practitioner in Shenyang City, Liaoning Province. At around 10 p.m. on March 31, 2009, a police officer found her in the Changan Community, the Dadong District. The officer and an accomplice beat Ms. Zhang horribly, kicking her head, body, and legs. Ms. Zhang covered her head with her hands and cried out, "Falun Dafa is good!" Many bystanders witnessed the beating. The officer reported her and had her arrested. Ms. Zhang was detained first at the Xiaodongmen Police Station in the Dadong District and was then transferred to the Shenyang City Detention Center on April 2.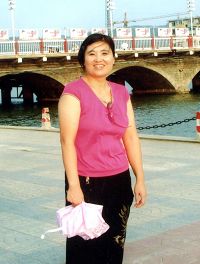 Shenyang City practitioner Ms. Zhang Zhiqin
From 2001 to 2003, Ms. Zhang was imprisoned and tortured at the Wujianbao Forced Labor Camp and Masanjia Forced Labor Camp in Fushun City for practicing Falun Dafa.
In the Wujianbao Forced Labor Camp, guard Wu Wei kicked Ms. Zhang and beat her with a 1.5-inch thick wooden bed board. She was hit with so much force that the board broke. Her ribs were so badly injured that she could not straighten up. She had injuries to her heart and brain. She could not lift one of her feet and had to drag it as she walked. Guard Wu grabbed Ms. Zhang by her hair, kicked her, stomped on her, and repeatedly slapped her face. She was punched and assaulted with a chair. The leg of the chair broke off she was hit so hard with it. Wu also savagely kicked Ms. Zhang in the head. As a result, her head would not stop humming and she saw nothing but black. There was a dent in her head, and she lost consciousness.
During her stay in Masanjia Forced Labor Camp, Ms. Zhang was handcuffed behind her back while a dozen people kicked her, beat her, and slapped her face. She was forced to squat for many hours and also to stand for excruciatingly long periods of time. She was also subjected to electric shocks and sleep deprivation.
Yin Fenghao (female), Shenyang City Dadong District 610 Office agent: 86-24-88504537, 86-24-88537328
Wan Bochang, Shenyang City Xiaodongmen Police Station director: 86-24-24313194
Meng Fanbiao, Shenyang City Xiaodongmen Police Station political instructor
Guan Rui, Shenyang City Xiaodongmen Police Station assistant director
Liu Ping, Shenyang City Xiaodongmen Police Station assistant director
Qiu Changsong, Shenyang City Xiaodongmen Police Station assistant director
Guo Baoan, Shenyang City Detention Center assistant director: 86-24-89248084
He Dongning, Shenyang City Detention Center political commissar
Wang Shuangyuan, Shenyang City Detention Center third ward director
Xu Yan (female), Shenyang City Detention Center third ward, in charge of Falun Gong issues