Czech Republic: Audience Members Shed Tears, "Astonished and Delighted!" (Photos)
April 19, 2009 | Compiled by Clearwisdom staff
(Clearwisdom.net) The final performance by Shen Yun Performing Arts at the Janacek Theatre in the historic city of Brno, Czech Republic, brought thunderous applause and high praise for Shen Yun.
Audience members from the city's cultural and arts community were astonished and delighted by what they saw and heard. Ms. Konecna, editor of a publishing company, was deeply moved by the show. "It's difficult to express with words. I got a very strong feeling from the show. Of course, if I take into account its artistic, dancing, and musical side, it is very beautiful."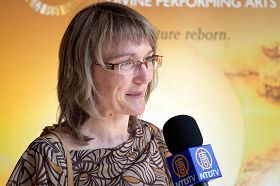 Ms. Konecna, editor of a publishing company
"I have to admit that I cried and I could not hold back my tears. The Tibetian Dance and the one about the persecution of Falun Gong, these two hit me emotionally," said she, referring to the dance pieces, "Dance of the Snow-Capped Mountain" and "Heaven Awaits Us Despite Persecution."
Also attending the performance was Ms. Vandrova, a radio broadcast host. She described the show's artistic impact. "It's absolutely staggering and sensational. I'm very fond of the gentleness--Chinese silk, Chinese women."
Ms. Vandrova added, "Astonishing! The grace is simply terrific. I don't wonder they are so successful internationally and that people everywhere bow to this artistry."
Another audience member, Mrs. Doubravova, a staff member of an academy of music and performing arts in Brno, shared her impression. "I consider this performance really unique, because it represents a culture which we do not know a lot about in our country and it's really important to know about it. I also think that it is important that it shows the principles of truthfulness and dignity," said Mrs. Doubravova.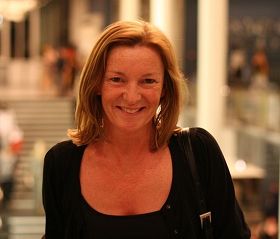 Mrs. Vrolix from Belgium was pleased to see the show during her five-day stay in Brno. Her host family invited her to the performance. As an artistic gymnastics teacher and competition judge, she had a keen eye for detail. "The show was very nice, everything was so clean. The artistic level of the dancing was very good. It was perfect."
Performances Offer Hope
For Ms. Rabkova, an advocate of the constitutional court, the show gave her some answers to questions she often reflects on. "I liked it very much, and in certain parts I was astonished. Usually at my age, one thinks of the purpose of life and I think the performers tried to give us some answers; why we are actually here and why we live. I think about it every day, but I do not know [the answer]. But they were trying really hard, and I was very satisfied, even moved."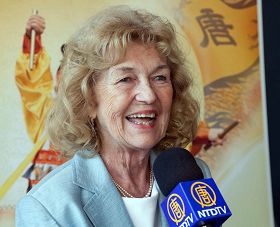 Ms. Rabkova, an advocate of the constitutional court
Ms. Rabkova also gave special mention to the final number, "Knowing the True Picture Offers Ultimate Hope." "It gave me the feeling that we have hope, that we would get to know why we were born. That it is not only to endure the pain, but for the happiness as well. The older one is, the less of it there is ... Because I have done criminal law, I have come in contact with the worst side of human society. Maybe I was influenced by that as well."
Mr. Neruda, vice chairman of a state economic bureau, found the show "very refreshing." "I was really moved by the contemporary piece [about the persecution of Falun Dafa practitioners]," he said. "It was very emotional and I think I understand very well the story and the disaster that is happening in today's China. When you are in China, of course it tries to appear very modern, but you can feel the atmosphere, you can feel that everything is not all right."
We Should Return To Our Traditional Values
Mr. Vrbova, an entrepreneur with a PhD in pedagogy, was touched by the high moral values that were always an integral part of China's traditional culture. Mr. Vrbova said, "As for the traditional values, we try to engrave them in the minds of children, but I think that in this kind of expression it gives a lot to adults as well. I like it."
The return to traditional values also struck a chord with Ms. Nekvaplova, who owns a styling salon. "Shen Yun has a spirit, which, these days, we are losing in a pursuit for money," she said. "We should return to traditional human values in order to be happier and more satisfied. I believe traditions are really important."
Reflecting on the performance, Ms. Nekvaplova said, "The Shen Yun performance was really beautiful and gentle, full of graceful moves. I enjoyed the percussion, because of its great energy. I am a makeup artist, so I was noticing the outstanding colors and overall image mostly. I think it was very harmonious, lovely, colorful and fluent."
Source: http://www.theepochtimes.com/n2/content/view/15537/