Australia: Shen Yun Warms Hearts and Souls in Brisbane Over Easter Weekend (Photos)
April 13, 2009 | Compiled by Clearwisdom staff
(Clearwisdom.net) Brisbane's Queensland Conservatorium Theatre showcased the critically-acclaimed Shen Yun Performing Arts 2009 World Tour on Saturday, April 11, 2009.
Retirement Village Manager: "Wonderful, Particularly the Spiritual Aspect"
Mr. Rackham, the manager of a retirement village, had nothing but praise for the Shen Yun performance. "I think it's rather wonderful, particularly the spiritual aspect. The dancers are very athletic, but also very flowing, very smooth and the color is absolutely fantastic," Mr. Rackham said.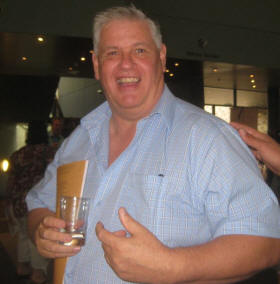 Mr. Rackham, the manager of a retirement village, kept praising the Shen Yun performance
Mr. Rackham said the show inspired him to find out more about China's ancient history. "I'm actually very interested in researching a bit further back into the ancient culture of the Chinese ... where it really comes from and where we're going," he said.
The historical content of the show definitely piqued Mr. Rackham's interest. "I'm quite surprised there are a lot of heritages and Buddhist content in the show. That surprised me, and even the references to Tibet. It's very warming, because they're cultures that I value."
He felt that the show brought to light the importance of knowing the different histories of the world. "Where we have come from, where various civilizations and big groups of people have come from is very important. And also the message that there is actually somewhere we go, as well. Some of the words in the poetry that came up [in the backdrop scene] 'not to be burdened by the illusions we have on earth,' [reminds me] that there is always something better out there. Even if you're a persecuted group [Falun Gong]--which is always unfortunate--there is something better awaiting us," he said.
"That whole philosophy is very warming," Mr. Rackham said.
Accountant: "Everything Was Perfect"
Mr. Rooker, an accountant, and his wife Elley, a bookkeeper, both retired, had deep impression about Chinese culture. "It made me realize how different and how far advanced the Chinese culture is in relation to our Western culture," Mr. Rooker said.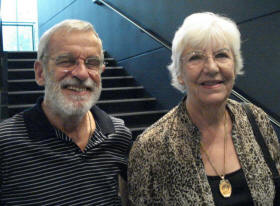 Mr. Rooker, an accountant, and his wife Elley, a bookkeeper, both retired

He shared his appreciation, saying, "The backdrops were excellent. The dancers were beautifully dressed. When they opened the show and we saw those dancers sitting in that cloud, I was thinking, wow, that is so pretty."
Mrs. Rooker thought, "They control their bodies totally. Not one hand was out of place." Mr. Rooker added, "They're dancers, they're athletes. Very graceful, very, very graceful."
He thought the show's emcees were "quite helpful" in understanding the performances. "You don't have time to read the program when you go into a show like this. So to have the bit of an explanation up front was useful," he said.
Bank Manager: "No Words Spoken, But You Really Understand"
Steven, a bank manager, was especially impressed with the show's music, "I just think it's really, really good." And he felt the memorable aspect of the Shen Yun was the performers' ability to communicate their message through dance and music. "There were no words spoken, but just by seeing the performer's movements you could tell what was really going on," he said.
Steven referred to the performance, "Heaven Awaits Us Despite Persecution," as an example, "Telling the story of the persecution, it was really well done. There was no words spoken, but you really understand," said Steven.
Source: http://theepochtimes.com/n2/content/view/15161/
http://theepochtimes.com/n2/content/view/15162/
http://theepochtimes.com/n2/content/view/15155/