Scottish Audiences Thrill to Shen Yun Performing Arts: Everyone Should See This Show (Photo)
April 11, 2009 | Compiled by Clearwisdom staff
(Clearwisdom.net) Shen Yun Performing Arts 2009 World Tour opened at the Edinburgh Playhouse in Scotland on April 8, 2009.
Ms. Macmillian works as a professional theatrical costume maker throughout Scotland, and was particularly impressed with the performers' costumes. "I thought they looked just beautiful--they made a very good impression. I think the costumes were very suitable for the moods for each piece. Some were particularly dramatic."
Her favourite dance was "Welcoming Spring," "The fabric on the sleeves was very elegant. I also enjoyed the men--they were very dramatic and strong. And I also enjoyed the uniformity of the dancing."
Ms. Macmillian said, "I enjoyed the three singers, not to mention the lady who played the piano--absolutely excellent." She also truly appreciated seeing classical Chinese dance, "I think it's wonderful that you bring your culture here."
Mr. Kinder, a senior lecturer at the University of Edinburgh, thought the show "was excellent, endearing and affectionate towards Chinese culture. We have a great deal to learn from China--mutual respect--best conveyed as a sharing of intellectual ideas, like we have seen today."
"I would recommend any one to come along to this show. The students from the university, whom I have seen here tonight, they have all had a great time!" said Mr. Kinder.
Creative Director and Artist: Fabulous Show!
Graham, creative director of an advertising company and a watercolor artist, described the Shen Yun performance as colorful and vibrant and as a "fabulous show." "I think the choreography impressed me most of all. Very, very good, indeed," he said.
Graham appreciated the dramatic pieces in the performance. He thought the dance "Heaven Awaits Us Despite Persecution," which brings the persecution of Falun Gong practitioners in China to light, was simple, dramatic, and beautifully done.
Graham was particularly impressed by the vocalists. "The singing was fantastic--all of them. Overall, a wonderful show. You couldn't fault it--really!" he said.
"I would see it again!"
Another couple said that they had never seen anything like Shen Yun before. Managing director of his own building company, Mr. Lamb said, "A very relaxing, beautiful show. Everything was lovely about it. We've seen nothing like this before, never. And I have been in the Far East myself. It's a pity you're not back tomorrow night. It's an excellent show; you couldn't fault it. If you did, there is something wrong in there!" he joked as he indicated his head.
The beautiful scenery of the backdrops impressed Mr. Lamb. He said, "The backdrop was beautifully done, as well as the effects. I would go back and see it again. Could you get them to do it over again?" he joked.
"We wish them all good health and happiness. I hope they achieve everything they want to achieve in life," he said warmly.
A jazz musician responded with great joy upon seeing the show for the first time. "It was fantastic. It was very vibrant. There were so many things that I had never seen before!" Mrs. Sanderson said after attending the show.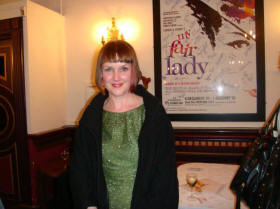 Mrs. Sanderson, a jazz musician
"I particularly loved the one with the girls with the really really long skirts in the really wide stripes. I mean they were circling and they turned into circles. It was beautiful. Absolutely beautiful." She said, referring to "Dance of the Yi."
The Yi minority people of Southern China are famous for their love of music and dance. They have a traditional way of dress with long, full skirts, and embroidered head coverings. In the dance, Yi women swirl and lift their brilliantly colored silk skirts to express a playful spirit.
"To me [the dances] are very passionate. I found that very exciting. I think I probably really enjoyed the Tibetan dance the most. That was my favourite, yes."
Source: http://theepochtimes.com/n2/content/view/15083/ http://theepochtimes.com/n2/content/view/15094/ http://theepochtimes.com/n2/content/view/15086/