Dance Instructor in Stockholm, Sweden: "I Have Already Shed Many Tears Because It Has Been So Beautiful" (Photos)
March 26, 2009 | Compiled by Clearwisdom staff
(Clearwisdom.net) The Shen Yun Performing Arts 2009 World Tour graced the stage at the stately Cirkus Theatre in Stockholm, Sweden, for two performances on Wednesday, March 18.
Dance Instructor: "I Have Already Shed Many Tears Because It Has Been So Beautiful"
Ms. Muronen, a dance instructor, along with her friend Ms. Karnebrink, were in the audience.
Ms. Muronen was visibly moved by the show. "I have already shed many tears because it has been so beautiful, and I am still crying," she said, a tear dropping from the corner of her eye. "One can't create a dance without the soul being part of it, so the soul and the movements are united as one."
Referring to the traditional values of compassion and kindness that were conveyed in the show, she said, "Excellent performance and very good and significant songs. We live in a period of time where we really need the understanding of brotherly feelings and compassion and kindness towards each other."
She commented about the thread of harmony that ran throughout the show, saying, "It is wonderful to see this show when the soul is in harmony with the physical movements, and everything almost floats above the scene. I feel now is the right time to understand what this dance actually has to say."
Swedish Actress: "The erhu player was fantastic"
Ms. Hedberg, an actress and director from the Dur & Moll Theater in Stockholm, attended the show with her fiancé, Mr. Peterson, CEO of an electronics and telecommunications company.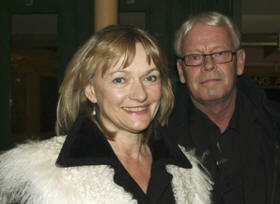 Ms. Hedberg, an actress and director from the Dur & Moll Theater in Stockholm, and her fiancé, Mr. Peterson
Ms. Hedberg said she especially enjoyed the erhu. "The lady who played the ancient instrument was fantastic, and all the colors were fantastic."
Mr. Peterson, agreed, saying, "The show as a whole was very beautiful, but above all, I liked the erhu."
Young Tibetan Amazed by Shen Yun
Tashi Thondup, a native of Tibet, said that he thought the show was magnificent. However, when he saw the dance drama "Heaven Awaits Us Despite Persecution," which depicts an innocent family who witnesses the death of a father persecuted for his belief in the spiritual practice, Falun Dafa, it brought back a flood of memories of being imprisoned in China.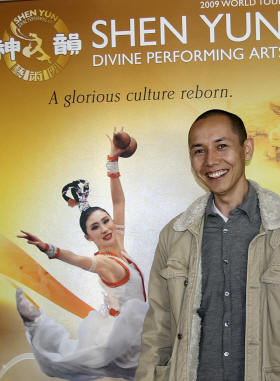 Mr. Thondup was amazed by Shen Yun
"It was hard to watch that number. It really touched my heart," he said. Tashi was jailed for three years in Tibet at the age of fourteen. He was subjected to different forms of torture and brainwashing. "If you haven't experienced those things, it's fine to see that number, but if you have experienced it, it can be difficult. All my emotions are coming back, and that is hard.
"The ending is good. They have done a fantastic job with the show, they surely have," concluded Tashi.