Oslo Audiences Acclaim Shen Yun's Debut in Norway (Photo)
March 17, 2009 | Compiled by Clearwisdom staff
(Clearwisdom.net) The highly acclaimed Shen Yun Performing Arts 2009 World Tour appeared for the first time ever in Norway. Presented in the Oslo Konserthus, one of the country's finest theaters, the New York-based dance company debuted to a packed house.
"This art shows a possibility of a bridge between many cultures and people"
With her trained dancer's sensibilities, Ingrid Frazer responded to the beauty of the dances. "I thought it was beautiful! I thought the colors were special--a wonderful display of color. I liked the silks, the movements. The movements of the dancers were beautiful and with a lot of feeling. The emcees said ... that [the dancers] are also trained in feeling--I could feel that."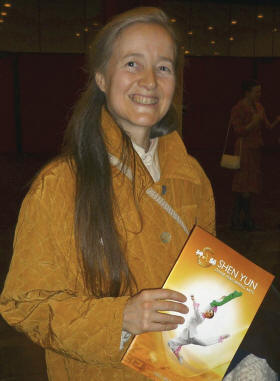 Ingrid Frazer, trained in the Rudolf Steiner method and Eurhythmic dance used in the Rudolf Steiner schools
Ms. Frazer said, "I could see that Rudolf Steiner has been inspired by the Chinese traditions. I could see those rhythmical movements in the dances reminding me of the way we use rhythm in dance in Rudolf Steiner's school. There was also lot of rhythm in the dances that also reminds me of the folk traditions. In modern dance they wear very few clothes, almost nothing, so you see the physical very well, but this was much more than the physical movements."
She added, "I could also see the philosophy from Buddhism. It was very exciting that there is a connection between, a bridge between, the spiritual belief of Dafa and their values and mine, which comes more from the Christian tradition.
"I feel very nourished. I feel good in my heart and positive. Also I feel it is a revelation for me. Looking into Chinese history and culture, I have a greater appreciation of China. I think it is so important today. We have quite a limited view of what it means to be Chinese.
"I think they made a real bridge, and this art shows a possibility of making a bridge between many cultures and people. I learned a lot. I have a great respect for Chinese culture now and much more reverence!"
Extremely Beautiful and Gracious
In the audience were Mr. Sorlie, a media director for a global agency; Ms. Alvia, an artist--a painter; and Mr. Anggog, a nurse.
"I think it is great, a great performance of Chinese artistry. It's actually very good," said Mr. Sorlie.
Ms. Alvia added, "I am amazed by the technique of the dancers, their footwork, and the performance in general. I think it was fabulous! Extremely beautiful and gracious. It was said that it would be a chronological history from the ancient Chinese up to today."
Mr. Sorlie continued, "It was very gracious, very good." Mr. Anggog added, "The music was beautiful."
Referring to the program titled "Hope," Ms. Alvia said, "The two-stringed violin [erhu]--I would say that this artist--when I looked at the faces around me, [this performance] was the one that enthralled the audience the most. This tiny little woman playing this wonderful instrument captivated us all. Her performance was so sensitive, in a way that it touched the audience in a different manner than the singers did. That was my observation. Extremely beautiful."
Source: http://theepochtimes.com/n2/content/view/13732/
http://theepochtimes.com/n2/content/view/13729/