Shen Yun Divine Performing Arts Continues to Impress Belgian Audiences (Photos)
February 28, 2009 | Compiled by Clearwisdom staff
(Clearwisdom.net) Shen Yun Divine Performing Arts' 2009 World Tour (SYDPA) continues to captivate European audiences as it played in Antwerpen's famous venue, The Stadsschouwburg. Mr. Dierckx, a former stage manager of a major Brussels-based TV station, was absolutely mesmerized by several aspects of the show.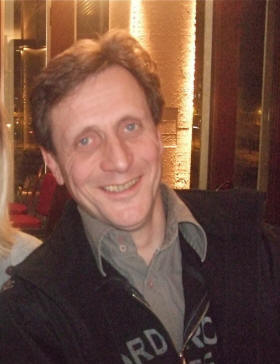 Mr. Dierckx, former stage manager of a major Brussels-based TV station
"For me, it was the synchronicity that was nice. There was a synchronicity between everybody," Mr. Dierckx said, when asked how he enjoyed the performance.
Mr. Dierckx was also quite taken with the music, SYDPA orchestra's unique blend of Western and Chinese original compositions. "It is very good. I found it very good, and I do have a fondness for Chinese music. I just love music."
This was the first time another audience member, Mr. DeWeert, had seen the show, and he was very impressed. "It's amazing! They [the dancers] are very dynamic." Mr. DeWeert runs an audit company that has international offices.
He said, "It's a combination of the whole. It's not just one thing. It's quite dynamic. It's the speed with which everything transpires--very good singing, very good dancing. It's nice, very nice. It's an expression of culture and that's always very nice. Even how the woman introducing the acts knew about the Meir [the most famous street for shopping in Belgium] is amazing."

Graceful and Impressive!
Acting on the recommendation of friend, one couple drove nearly 200 km [124 miles] from Cologne, Germany to watch SYDPA in Antwerp. Mr. Bathke, a customer loyalty manager for a large U.S. firm, said "It was beautiful, and the colors were gorgeous! [The dancers] were very graceful and very impressive." Ms. Pelaez, who is a public relations assistant, said she was also "Highly impressed."
Mr. Bathke and Ms. Pelaez traveled from Cologne, Germany
Mr. Bathke said, "Since this show is banned by that communist regime, and is constantly being interfered with [by the Chinese embassies] in a number of countries, this has made me more eager to see this show!"
He continued, "Really, I am fond of Chinese culture, especially traditional Chinese culture. It's hard for me to fathom that in a country that has such a culture -- such a treasure!"
"The stories [that] were told in the scenes. The family that lost the husband and father in Heaven Awaits Us Despite Persecution." This performance touches upon the tragedy still unfolding in present-day China, of Falun Gong practitioners being persecuted for their spiritual beliefs. "How all of this was shown in an artistic way was very impressive," said Mr. Bathke.
Everything is Perfect!
The Poppe brothers joined the appreciative audience at the Stadsschouwburg in Antwerp to watch SYDPA. Mr. Poppe, the elder brother, works in computer design and fashion as a digital artist and color analyst. He had so greatly enjoyed the show last year, that he was not only very keen to see it again, but made sure to bring his younger brother with him. He said, "Everything I saw, the whole aspect of the show, and the choreography together with the colors. It was all very good. The colors with the backdrops are perfect! Very professional."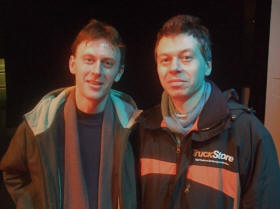 The Poppe brothers
Mr. Poppe feels that the show improves each year. "There is a certain foundation they [always] build on . . . always searching for truth and self improvement." Mr. Poppe shared his own love of ancient Chinese spiritual culture. "I've looked into Asian spirituality, like Confucianism and Buddhism."
He is very concerned with what he sees happening in China today, and the lack of freedoms. "I've been to Asia a few times: Taiwan, Hong Kong, and Malaysia. Lately, I've noticed something was wrong, because yesterday I emailed my friend on-line in Guangzhou, just on the border of Hong Kong. But she couldn't open up your web-site. I forwarded it, and even through You Tube, she couldn't open it. But my friend said that in Hong Kong, they can."
"If you gave a show [like this] in mainland China, with topics like Tibet, it would be completely forbidden. If you do something, I think if you're a foreigner, they put a stamp on your visa, and you can never return to China. But if you're Chinese, you disappear."
Source: http://theepochtimes.com/n2/content/view/12720/
http://theepochtimes.com/n2/content/view/12706/
http://theepochtimes.com/n2/content/view/12656/