Falun Gong Welcomed at Chinese New Year Festival in Quincy, Massachusetts (Photo)
February 21, 2009 | By Cheng De
(Clearwisdom.net) Quincy, MA - On February 8, 2009, Falun Gong practitioners participated in the 21st Lunar New Year Festival in Quincy, Massachusetts. This annual event was held at North Quincy High School. Approximately 7,000 people attended the festival.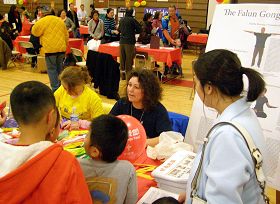 Caption: Practitioners participated in the 21st Quincy Lunar New Year Festival. They introduced the practice and clarified the facts about the persecution of Falun Gong in China
A Vietnam-born Chinese woman who works for an insurance company was very moved after listening to the practitioners. She asked for a paper lotus flower and said that she would tell her friends that practitioners hold on to their belief despite the persecution.
A man expressed sympathy after hearing about how practitioners in China have suffered under the persecution. He asked for written instructions for making folded paper lotus flowers and said he wanted to give a copy to all the teachers he knows. His hope is that they will tell their students the stories behind the lotus flower while teaching the children how to make them. His heart was with the practitioners and he hopes that after hearing stories about Falun Gong, youngsters will become more compassionate and morally sound, so that the world will become a better place.
Close to the end of the event, a woman and her four daughters stopped at the Falun Gong table and asked for a lotus flower. A practitioner patiently taught her how to make the folded paper flowers and told her about the persecution of Falun Gong in China. Her 15-year-old daughter said that she wanted to learn Falun Gong and asked for a flyer and CD.