Australia: Members of the NSW Parliament Express Support for the Indictment of Chinese Leaders (Photos)
(Clearwisdom.net) The Spanish National Court recently indicted five high-ranking Chinese Communist Party (CCP) officials, including former Communist Party head Jiang Zemin and Luo Gan, Bo Xilai, Jia Qinglin, and Wu Guanzheng, on charges of genocide and torture of Falun Gong practitioners. In a recent interview, two members of the New South Whales Parliament, Marie Ficarra and Gordon Moyes, expressed support for the lawsuit.
Marie Ficarra MLC - Member of the NSW Parliament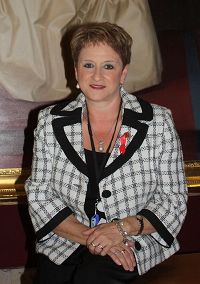 Ms. Marie Ficarra, MLC
What I would say is that the civilized world should take this extremely seriously because for a nation like China to be so secret about what it does is no longer acceptable. It is good to see the Spanish Court judgment, and civilized countries like Australia cannot stand by and not at least inquire seriously about why we are not to allowed to enter into camps, into the hospitals and to observe independently and impartially. If China has nothing to hide, then they should allow these inspections by the UN, the Red Cross, because there is no need to suppress the independence of people.
Falun Gong is a peaceful faith that can only strengthen people in China. It will not bring down the Government, and China is forging ahead economically. However, this indictment, this terrible indictment on human rights, will never bring it [China] respect in the civilized world.
So it is all up to the legislators in developed countries, civilized countries like Australia to speak out. At today's forum, we had Labor members, we had Green members, we had Liberal members and we are all very concerned that the terrible tortures, organ harvesting, murders and slave camp and prisons continue; this is unacceptable in today's modern age. China needs to open itself up to scrutiny and end these practices and behave like a civilized nation. If they want to be treated with respect by the rest of the world, they have to earn that respect.
The Reverend Hon Dr. Gordon Moyes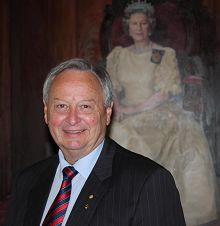 Reverend Dr. Gordon Moyes, MLC, NSW Parliament.
I have been following what has been happening to Falun Gong practitioners over many years and in particular the sending of practitioners, Christians and others to slave labor camps and also for the way their human rights have been abrogated.
And of course the worst of these is the harvesting of organs. It is very important that the courts of the world, such as the Spanish Court, declare that certain actions are illegal. We are one world and what is wrong in one place can never be right in another place. If it is wrong it is wrong. And the people of the world should protest against all forms of totalitarianism, wrongful imprisonment and also death and sale of organs.
The problem with Australia is that what comes first is economic value not human rights. And therefore there is a reluctance as we saw with the Stern Hu case, there is a reluctance for the government to do anything, because they are frightened this is going to hinder the sale of our bauxite and iron ore to China.
We believe very strongly in good bilateral trade, we want to send our goods to China, and we want to buy so much from China. However, we should be placing the rights of people ahead of the bank balances of companies. Therefore, if there is something that is basically wrong, we should be encouraging our courts to speak against that, not just be concerned for trade.
I think governments ought to be willing to speak up wherever there is wrong. We saw that some years ago in South Africa. The Australian government was willing to talk against the apartheid system and, we should be willing to talk against what's happening in China in the failure to observe human rights.