Australia: Rally Held at Parliament Hill Calling for the End of the Persecution (Photos)
December 03, 2009 | By Minghui reporter Huaqing
(Clearwisdom.net) On November 25, Falun Gong practitioners in Australia held a rally in front of parliament hill in Canberra, calling upon the government and people to pay attention to the persecution of Falun Gong and help bring it to an end.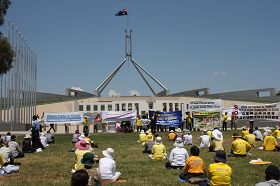 The rally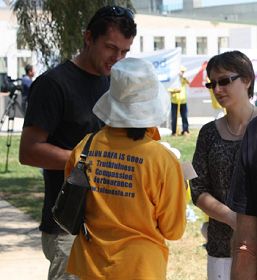 A practitioner talks with a passerby about the persecution
Several Falun Gong practitioners told their own experiences of being tortured in China. Ms. Li Ming, who was jailed in a labor camp, said six of her friends were tortured to death and nine were sent to labor camps because they practiced Falun Gong. Mr. Yue Changzhi, a 70-year-old practitioner from Beijing was arrested several times and jailed four times.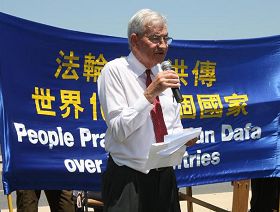 John Greenwell from Amnesty International
John Greenwell from Amnesty International gave a speech at the rally. He said there is no evidence that Falun Gong practitioners are harmful to the society; they have been persecuted because of their belief. Mr. Greenwell asked why the Chinese government persecutes Falun Gong and listed some numbers and evidence of the persecution.
After the speeches, rally participants held a moment of silence in memory of those who were tortured to death in the persecution. Later, local Falun Gong practitioners demonstrated the exercises and conducted re-enactments of some of the tortures endured by practitioners in China. They also passed out flyers and spoke with tourists and government officials.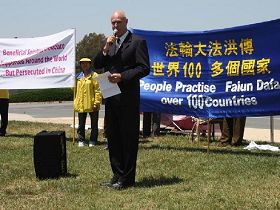 John Deller, spokesman of the Falun Dafa Association in New South Wales
John Deller, spokesman of the Falun Dafa Association in New South Wales, gave a speech and told the public about the lawsuits against the main culprits behind the persecution.
On the same day, Mr. David Matas, a famous human rights lawyer from Canada and the co-author of the new book Bloody Harvest: The killing of Falun Gong for their organs, held a forum in the parliament, discussing the economic development of China and its impact on Australia.