Taiwanese Police: "Falun Gong Is Admirable!" (Photos)
December 26, 2009 | By a Taiwanese Falun Dafa practitioner
(Clearwisdom.net) On December 23, 2009, the third day of Chen Yunlin's visit to Taiwan, Falun Gong practitioners protested against the chairman of China's Association for Relations Across the Taiwan Strait (ARATS) at every place he stopped. The policemen on duty said they had never seen such a peaceful and rational protesting group. They knew Falun Gong's request for the Chinese Communist Party (CCP) official.
Falun Gong practitioners line up along streets
Chen arrived at the Sanyi Wood Sculpture Museum at 2:00 p.m. Falun Gong practitioners, who had been waiting since 7:00 a.m., displayed banners reading, "Falun Dafa Is Great!" "Life Needs Truthfulness-Compassion-Forbearance" "Stop the Persecution," and others. They were determined for the CCP official to see clearly that persecuting Falun Gong is wrong and that persecutors will be brought to justice.
The police officers on duty said that the Falun Gong practitioners' peaceful expressions of their requests were admirable. The job of the police officers was easy. People working in nearby stores said that Falun Gong was seriously persecuted by the CCP, and that their voice should be heard.


Falun Gong banners displayed along miles of road to Sanyi West Lake Resort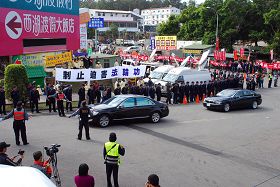 Chen's motorcade passes "Stop Persecuting Falun Gong" banner as it passes Sanyi West Lake Resort
Falun Gong practitioners gathered at the Sanyi West Lake Resort, Sanyi Wood Sculpture Museum and Sanyi Wood Sculpture Street in the morning. Miles of road was lined with banners stating, "Falun Dafa Is Great," "Truthfulness-Compassion-Forbearance," "Stop Persecuting Falun Gong," "The World Needs Truthfulness-Compassion-Forbearance," and "CCP Officials Sued in Spain."
The Taiwan Falun Dafa Association released a statement pointing out that the CCP will be held responsible for the persecution of Falun Gong launched by the former CCP head Jiang Zemin.
As Chen stepped out of his car in front of the Sanyi Wood Sculpture Museum, the first thing he saw was the Falun Gong practitioners' demonstration.
Falun Gong practitioner Ms. Jiang told the reporter that many practitioners had been holding banners for hours. They quietly sent forth righteous thoughts and cried "Stop the persecution" in one voice. The police officers were touched and expressed their support.
Ms. Peng, a store owner who came from Guangdong Province, China, didn't understand Falun Gong's demonstration at first. She repeated the CCP's slandering of Falun Gong in its propaganda. But after she learned that the self-immolation on Tiananmen Square was a staged show by the CCP and that the propaganda she watched was falsified, she suddenly became clear of what happened and understood the reason for the peaceful demonstration. She said that she would find out more about Falun Gong on the Internet.
As Chen arrived at Da'Jia Jenn Lann Temple at 3:40 p.m., again he faced the Falun Gong practitioners' words, "Stop persecuting Falun Gong" and "Falun Dafa is great." Huge banners reading, "Jiang Zemin and Luo Gan Sued in Argentina and Spain" and "CCP Is Doomed" were right in front of him as he left.