Sujiatun District Court in Shenyang Tries Ms. Yu Jingzhen (Photo)
Name: Yu Jingzhen (于静珍)
Gender: Female
Age: 65
Address: Chenxiangtun County in Sujiatun District, Shenyang, Liaoning
Occupation: Housewife
Date of Most Recent Arrest: July 28, 2009
Most Recent Place of Detention: Liaoning Detention Center ( 沈阳市看守所)
City: Shenyang
Province: Liaoning
Persecution Suffered: Detention, home ransacked, forced labor
Defense Attorney: Jin Guanghong (金光鸿)
(Clearwisdom.net) (By a correspondent from Liaoning Province) On December 3, 2009, Sujiatun District Court in Shenyang City held a trial for Falun Dafa practitioner Ms. Yu Jingzhen. Ms. Yu's lawyer Mr. Jin Guanghong made a not-guilty defense.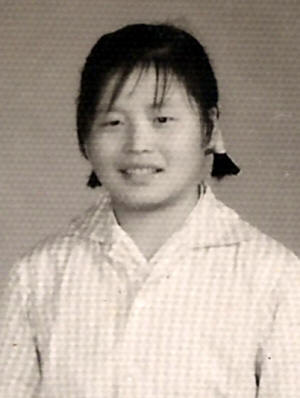 Ms. Yu Jingzhen in her early years
The trial lasted from 9:00 a.m. to 11:00 a.m. Four of Ms. Yu's family members were allowed into the courtroom and sat in the gallery, and the other people present were from the 610 Office or were police officers or security personnel. In the court, one staff member was recording the trial on video, and police officers were stationed every two meters. Outside the court were plainclothes officers. The judge was Qi Jun, and Xuan Yinkuan was the public prosecutor for the case.
During the trial, Ms. Yu said that Falun Gong teaches people to improve their moral character and health, benefiting the Chinese people and the country as a whole. She further explained that she had gained good health through her practice, and furthermore was able to treat her neighbors and other people compassionately. She maintained that practicing Falun Gong is not a criminal offense and she is innocent of any wrongdoing.
Ms. Yu Jingzhen has practiced Falun Gong for thirteen years. On the afternoon of July 28, 2009, the police from Donggou Town Police Station arrested her when she was distributing Falun Gong truth clarification materials, and detained her at Shenyang City Detention Center.
Lawyer Jin Guanghong delivered a good defense for his client. He pointed out that distributing Falun Gong materials doesn't violate any law, nor does it interfere with law enforcement. It is the citizen's right of freedom of speech, as protected by the constitution. The 300th article in Criminal Law on "Using cult organizations to interfere with the implementation of the law" violates the Constitution and should be abolished. The law enforcement system's persecution of Falun Gong practitioners violates the 251th article in Criminal Law on "illegally depriving the citizen's freedom of belief and religion."
The lawyer further added that Falun Gong is a peaceful cultivation group, without a political agenda. Falun Gong practitioners follow the principles of Truthfulness-Compassion-Forbearance to be good citizens; they have done nothing to violate the law.
Lawyers have taken a stand for Falun Gong practitioners and made non-guilty defenses in several other similar cases in Shenyang City; this is the first time in Sujiatun District. The next court proceeding on Ms. Yu's case will be after ten days.
Sujiatun District Court in Shenyang City:

Liang Daguang, chief judge of Criminal Court: 86-24-89469707;
Zhang Congying, judge of Criminal Court: 86-24-89469708;
Qi Jun, judge of Criminal Court (Ms. Yu Jingzhen's case): 86-24-89469710;
Li Yang, judge of Criminal Court: 86-24-89469711;
Li Zhibo, judge of Criminal Court: 86-24-89469773
Zhang Bing, clerk: 86-24-89469722;
Quan Yinkuan, male, public prosecutor from Sujiatun District Procuratorate Court
Related article:
http://www.clearwisdom.net/html/articles/2009/10/30/111937.html