Ms. Liu Zhi, a Housewife in Heping District, Shenyang City, Arrested (Photos)
Name: Liu Zhi
Gender: Female
Age: 49
Address: Heping District, Shenyang
Occupation: Housewife
Date of Most Recent Arrest: October 22, 2009
Most Recent Place of Detention: Shenyang City Zaohua Detention Center
City: Shenyang
Province: Liaoning
Persecution Suffered: Imprisonment, home ransacked, detention
Key Persecutors: Officer Xu, in charge of Falun Gong cases and responsible for the persecution of many Falun Gong practitioners at Heping District Police Department, Shenyang City: 86-24-23523556; Command center of the Domestic Security Division of the Heping District Police Department: 86-24-23507440
(Clearwisdom.net) (By a correspondent in Liaoning Province) Ms. Liu Zhi is a diligent and kind practitioner, who has practiced Falun Dafa for 13 years. She is 49 years old, healthy and full of energy. On the afternoon of October 22, 2009, officers from the Xinxing Police Station in the Heping District arrested Ms. Liu. Her family has been denied their right to visit her, and they have not heard anything from her.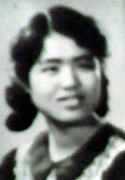 Ms. Liu Zhi
Shortly after 4:00 p.m. on October 22, 2009, officers from the Xinxing Police Station searched Ms. Liu's home. They confiscated a desktop computer, notebook computer, DVD player, tape recorder, cellular phone, laser printer, an ink jet printer, a few hundred blank DVDs, and all her Falun Dafa books.
Scene at Ms. Liu Zhi's home after police ransack it
Ms. Liu is being held at the Zaohua Detention Center in Shenyang City and faces unlawful trial. Her school-age daughter anxiously awaits her mother to return home.
Before starting to practice Falun Dafa, Ms. Liu was short-tempered and quite stubborn. When her daughter was only 18 months old, her husband suffered injuries at work and died. The relations with her in-laws were strained due to division of the compensation for her husband's death. She did not even go visit her in-laws. She was saddened by her husband's death and she suffered from heart disease, high blood pressure, and bronchial asthma, among other illnesses. She had to take infusions as soon as the weather turned cold. When she was ill her young daughter often became ill as well. The mother and the daughter spent days mourning and weeping. One day when her daughter was just able to walk and talk, she was bedridden and had to have her daughter go downstairs to buy eggs. The vendor gave the young child all broken ones.
In 1995, Ms. Liu started practicing Falun Dafa and all her illnesses disappeared. Her health was restored and she became full of energy again. She follows the principles of Truthfulness-Benevolence-Forbearance and looks within whenever there is a conflict. The years of conflicts with her in-laws were also resolved. She has been cleaning the public area by her stairway and always places the interests of others before her own. She has been able to take care of her elder sister who is ill, and her younger brother who is handicapped. Everyone who knows her says she has completely changed, and she has become good tempered. Falun Dafa changed her, and laughter returned to her home.
After the Chinese Communist Party started the persecution of Falun Gong, Ms. Liu told others the greatness of Falun Gong. In 2002, she was arrested.
November 13, 2009