The 2009 European Falun Dafa Cultivation Experience Sharing Conference Held in Paris (Photos)
November 25, 2009 | By a Falun Dafa practitioner in France
(Clearwisdom.net) The 2009 European Falun Dafa Cultivation Experience Sharing Conference was held on November 22 in Paris, France. Nearly a thousand Falun Gong practitioners from Spain, France, Belgium, the U.K., Sweden, Switzerland, Turkey, Finland, Romania, Norway, the Netherlands, and Germany joyously converged at the Palais De La Mutualite.
Master sent a special congratulatory message, wishing the European Fa conference resounding success. Master also said, "At the same time, I would like to say a few words to those students who are failing to live up to expectations." Master's words touched our hearts.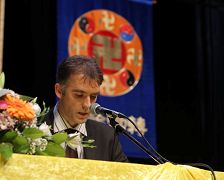 Practitioners share their cultivation experiences at the conference
Fifteen practitioners from different countries shared their cultivation experiences at the conference.
Tang Hanlong from France said that, ever since the Chinese Communist Party (CCP) started the persecution of Falun Gong, the Paris police refused to allow Falun Gong practitioners in France to hold peaceful protests opposite the Chinese Embassy. On the tenth year of the CCP's persecution of Falun Gong, the Falun Dafa Association in France filed a lawsuit against the Paris Police Department, and won the case. Practitioners are now able to stand right in front of the Chinese Embassy to hold activities to protest the persecution.
A practitioner from Madrid, Spain, shared his cultivation experiences doing advertising sales for The Epoch Times over the past three plus years. He said he was a very shy person, and that if he did not practice cultivation, he didn't believe he would ever have been able to participate in sales work. In order to do better in saving sentient beings, he said the media should become self-sustaining as soon as possible. He treated the process of doing sales as an opportunity to identify and let go of his attachments, cultivate himself well, and fulfill his historic mission.
The French "Sound of Hope" radio team got on the stage together to share with everyone their work and cultivation as a whole. An elderly practitioner worked with a diverse group of young people for five months to produce more than 150 news programs, but they initially did not even care about or understand the news. In this process, they cultivated away the attachment to validating themselves, learned to cooperate with each other, and realized that their only purpose was to save sentient beings.
Li Guangfen from the U.K. told of her cultivation experience of improving herself while taking part in Shen Yun activities. Shen Yun Performing Arts has performed for three years in a row in the U.K. She participated in ticket sales and getting sponsorship. She thought that the pressure and difficulty provided her an opportunity to improve. She believed that with Master and the Fa, she would be strengthened and would do well.
A married couple from Sweden shared how they have traveled around Sweden over the past ten years to explain to people about Falun Gong and the persecution. In the process, they have remained steadfast and patient with fellow practitioners. They always place saving sentient beings as their top priority and are tolerant about the differences among practitioners. Walking together on the path to Consummation, they help each other with compassion.
Pan Shuzhen, in her late 60s, is from Switzerland. She told of her difficult and happy experience of exhorting Chinese tourists to quit the CCP and its affiliated organizations at a tourist spot. She has accumulated a lot of experience on how to quickly help Chinese tourists quit the CCP. Facing different groups of people, she has only one thought: saving them. Her own xinxing has also been constantly improved.
A practitioner from Romania shared her experience of organizing a Truthfulness-Compassion-Forbearance International Art Exhibition. With practitioners as a whole improving their xinxing, the seemingly complicated and hopeless situation was miraculously resolved. As a coordinator, only by being selfless and always putting others above herself could she do well in coordination, just as a person quietly makes contributions behind the scenes and lets other people radiate on the stage.
A practitioner from Oslo, Norway, coordinated a Shen Yun performance. He regarded it as a precious opportunity in cultivation. While doing coordination work, he tried to follow Master's requirement and unconditionally harmonize. He understands that hosting a Shen Yun performance is a cultivation process for everyone to cultivate away the attachment to blaming others, establish mutual trust through exchanging and sharing, and let go of ego and listen to others' opinions before proposing one's own opinions and methods.
The Fa conference began at 9:30 a.m. and concluded at 5:30 p.m. Everyone felt they benefited a great deal.
Ten years ago, Paris hosted a Falun Dafa European International Conference. At the time, Falun Gong was not being persecuted in China. Many practitioners from mainland China came to attend that Fa conference. Practitioners studied the Fa, did the exercises, and shared their cultivation experiences. Many people told touching stories, and everyone improved from the sharing.
Over the past ten years, practitioners around the world have always remembered to cultivate themselves following Truthfulness-Compassion-Forbearance as they have worked against the persecution. Practitioners firmly believe that Truthfulness-Compassion-Forbearance will be deeply rooted in people's hearts, and they will also spread the truth and good messages of Dafa to every corner of the world.