Malaysia: Divine Land Marching Band Invited to Perform for the First Open Dragon Boat Championship Held at Multimedia University Melaka (Photos)
November 22, 2009 | By a Falun Gong practitioner in Malaysia
(Clearwisdom.net) Multimedia University Melaka, Malaysia, held the first Open Dragon Boat Championship in Ayer Keroh Lake, Malacca, on November 15, 2009. The Malaysia Divine Land Marching Band was invited to perform and welcome the guests at the opening ceremony.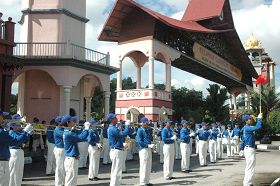 Divine Land Marching Band performs prior to the Open Dragon Boat Championship in front of the Malacca Gate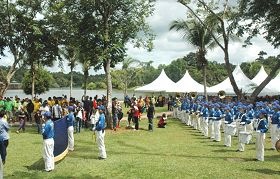 Performing at the First Multimedia University Melaka Open Dragon Boat Championship
Chief Minister of Malacca YAB Datuk Seri Mohd. Ali bin Mohd. Rustam, accompanied by En. Zamzuri Bin Abdul Majid, Senior Director of Student Affairs at Multimedia University Melaka, and Huang Shudang, president of Malacca Dragon Boat Promotion Association, and others, hosted the opening ceremony. The Divine Land Marching Band performed "Ode to Joy" and "Buddha Grace Holy Music." The host thanked the Falun Dafa group for a wonderful performance.
The dragon boat race was actively participated in and supported by more than a dozen entries from neighboring countries including Singapore.
Performing at Mall
After performing for the dragon boat race, the Divine Land Marching Band went to Melaka Mall to play. When the band entered the hall with precision steps, the music they played drew many people to come to watch.
The Divine Land Marching Band performed a number of resounding selections, including "Falun Dafa Is Good," "Delivering Gifts," "Buddha Grace and Holy Music," "Fa Drums and Fa Trumpets Shake the World of Ten Directions," "Ode to Joy," and "Fa Rectifies the Universe."
The manager of the mall introduced Falun Dafa and the Divine Land Marching Band during their performance. Many people took introductory materials to learn more about Falun Dafa.
Before leaving Malacca, the band went to perform at Mydin Mall, bringing the magnificence of Falun Dafa to the local people.