"Bloody Harvest" Exposes Bloody Crimes in China (Photos)
November 17, 2009 | By Ye Linghui
(Clearwisdom.net) Toronto, Canada- The first book that depicts organ removal from living Falun Gong practitioners in China- Bloody Harvest, The killing of Falun Gong for their organs- has recently been published. David Matas, one of the book's authors and a human rights lawyer as well, held a book signing event on November 15, 2009 in Toronto. Matas said that more people need to take action to stop the illegal organ removals in China.
David Matas signs books for his readers at the book signing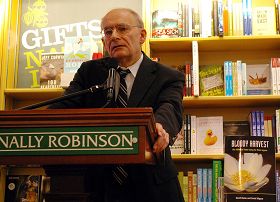 David Matas shares his experience in the investigations of organ removals from living Falun Gong practitioners
In March 2006, "Annie," a former staff member at the Sujiatun Hospital, affirmed that her neurosurgeon ex-husband extracted corneas from over 2000 practitioners in the hospital for two years, from 2003 to 2005. Other doctors simultaneously took their livers, kidneys and other organs while practitioners were still alive, and the bodies were immediately cremated to destroy all evidence. Matas and David Kilgour, former Canadian Secretary of State for Asia Pacific, subsequently accepted an invitation by the CIPFG to investigate the Chinese Communist Party's (CCP) crime of illegal organ removals.
Matas said that they accepted the CIPFG invitation without taking any money and he was not given any information or direction. He said that he accepted the invitation because it was an accusation that people were cremated after their organs were removed and there were no survivors.
On July 6, 2006, David Kilgour and David Matas published their two-month investigation report, affirming large-scale organ seizures from unwilling Falun Gong practitioners in China for profit. They believe such an atrocity is widely spread in China and is continuing.
At the book signing, Matas also shared his investigation records described in his book with the readers. It was the phone recordings of the investigators calling hospitals in China, pretending to be customers who needed organ transplants.
Many readers asked Matas that why the Chinese Communist Party (CCP) suppresses Falun Gong and why Chinese Consulates overseas try so hard to stop practitioners from exposing the facts of the persecution. Matas answered every question.
So far Matas and Kilgour have published three reports on their investigations. According to Matas, the market for organ transplants in China has shifted to domestic customers instead of foreign visitors. The number of organ transplants in China remains the same but the number of death sentences decreased. This indicates that more and more organs are being extracted from Falun Gong practitioners.
Matas told the press that he hopes the publication of his book will raise the public's attention on this issue and more people will take action to stop it from happening. Matas and Kilgour will tour the world to promote the book and to discuss human rights issues.
Being an international human rights lawyer, Matas said that it is his responsibility to stop such a large-scale ongoing violation of human rights.
Mr. Matas was appointed a member of the Order of Canada on December 30, 2008. It is the highest civilian honor awarded in Canada. On November 13, 2009, the Honourable Lawrence Cannon, Minister of Foreign Affairs, announced the appointments of Matas the board of directors of the Montreal-based International Centre for Human Rights and Democratic Development (Rights & Democracy). Rights & Democracy is a non-partisan organization created by Canada's Parliament in 1988. It is to encourage and support the universal values of human rights and the promotion of democratic institutions and practices around the world.