Turkey: Falun Dafa Practitioner Art Exhibition Impresses City of Eskisehir (Photos)
November 13, 2009 | By a Falun Dafa practitioner in Turkey
(Clearwisdom.net) The Truthfulness-Compassion-Forbearance International Art Exhibition arrived Eskisehir Turkey, on November 1, 2009. The eight-day exhibition brought much surprise to the local people.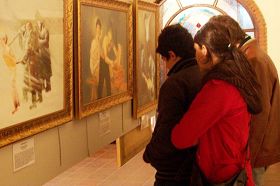 People view the paintings carefully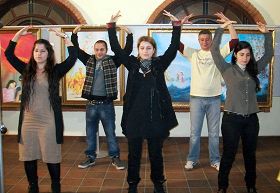 Exhibition visitors learn the Falun Dafa exercises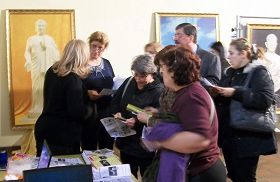 Visitors ask for materials about Falun Dafa
The exhibition not only attracted local residents but also people from neighboring cities. Some were moved by the justice and compassion in the paintings, and some expressed anger towards the Chinese Communist Party's (CCP) ugly persecution of Falun Gong.
Mr. Sehabettin Tosuner is an editor of Sakarya, a major newspaper circulating in Central Anatolia Region, and chair of the Eskisehir Art Association. Two days after he visited the Exhibition, he published an article in Sakarya discussing the persecution of Falun Gong in China. He condemned the inhumane tortures taking place in China in his article.
Mr. Vecdi Sayar, a well-known news reporter and movie reviewer, came to the exhibition with several of his friends from the news industry. They highly praised the artworks and were shocked to learn of the CCP brutality.
Attorney Mr. Ahmet Acar brought his family to the exhibition. They stayed a long while after they finished viewing the paintings, while talking with the practitioners. Mr. Acar said, "This exhibition highlighted the importance of peace. Any kind of suppression and persecution is shameful for humankind. This is the most shocking exhibition we have ever seen."
Mr. Bunyamin Ege teaches fashion design in Anatolia University. He thought the artworks were amazing, "All of my students should have come here to see them." He gave the phone numbers of some of his students and hoped the practitioners could invite them to the exhibition.
Mr. Rafet Akyalcin is a well-known local author. He left the following words in the message book after he viewed the paintings, "People should live like human beings. It is of extreme importance to expose this hidden persecution. Good people should not be tortured. Those who torture should be arrested."
Staffers in Haller Youth Center, where the exhibition was held, offered a lot of help and support during the exhibition. Sezgin works security in the center. He told the practitioners that in the many years he has worked there, he has never been friendly with people. "For some reason I felt I have known you from a long time ago when I first saw you. I respect you for the just things you do and I sincerely want to help you," Sezgin told the practitioners.
A lottery ticket sales person in the center felt that the exhibition was very important and that everyone should come to see it. "I will do my best to bring more people here." During the time of exhibition, this person brought many local residents and tourists to see the artworks.