Germany: Practitioners Promote Dafa in Freiburg (Photo)
November 12, 2009 | By a Falun Dafa practitioner from Germany
(Clearwisdom.net) On Saturday, November 7, 2009, practitioners from Germany and Switzerland organized a Falun Dafa Information Day event in the German tourist city of Freiburg amBreisgau.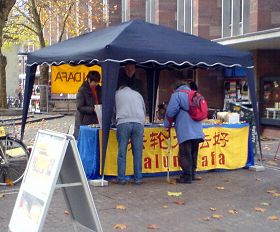 Falun Dafa Information Day at Freiburg Germany
It was cold and rainy but many people stopped to look at the display boards. Some asked for more information. People who learned the truth, signed their names to support the petition to end the persecution. Some expressed their respect to Falun Dafa practitioners as they persisted with their belief in face of persecution and are courageous to expose the brutal suppression.
Some people were interested in learning the exercises. Some people have heard about Falun Gong before and they wrote down the contact phone number for future teaching classes.
Many Chinese people came to the information booth, as well as local people. One mid-aged Chinese man received a flier and heard the practitioner told him it was about quitting Chinese Communist Party. He said happily, "Good, give me one. Thank you!" A Chinese student took a flier and said, "I would like to read this." The practitioner said, "It appears you already know something about it." The student replied, "Nowadays, most people here (in Germany) have already heard about the persecution." He also said he believed in that good or bad deeds had retributions and would read the materials. Some Chinese also quit the CCP and its affiliated organizations on the spot.