Ms. Zhang Lirong Sentenced to Four-Year Prison Term by Shenyang City Tiexi District Court
Name: Zhang Lirong (张立荣)
Gender: Female
Age: 40
Address: Unknown
Occupation: Unknown
Date of Most Recent Arrest: July 13, 2009
Most recent place of detention: Unknown
City: Shenyang
Province: Liaoning
Persecution Suffered: Sleep Deprivation, Forced Labor, Beatings, Imprisonment, Torture, Force-Feedings, Detention
Key Persecutors: The Tiexi District Court of Shenyang City, 86-24-25860539; Court Director: Li Yunfei (female); Judge: Chen Yan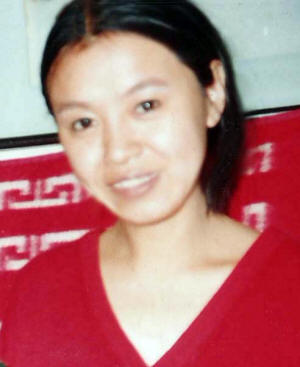 Practitioner Zhang Lirong in Shenyang City.
(Clearwisdom.net) (By a correspondent from Liaoning Province) Since the Chinese Communist Party (CCP) began persecuting Falun Gong in 1999, the Tiexi District Court in Shenyang, together with the 610 Office in Shenyang, the Political and Judiciary Committee of Tiexi district, the police department of Tiexi district and the Domestic Security Division have focused their efforts on practitioners. The Tiexi District court is responsible for the most frequent and heavy sentences forced upon practitioners. In the past, officials sentenced the practitioners in secret. Sometimes, practitioners' families were informed after sentencing, sometimes not. Therefore, the families had to inquire after their whereabouts from many sources.
Between 2002 and 2004, the Tiexi Court assigned heavy prison sentences to at least 20 practitioners. Mr. Liu Yantao was sentenced to 15 years in prison; Mr. Peng Geng to 13 years, Mr. Dong Weijia to 10 years and Ms. Li Shuzhen to 9 years. Among them, 31-year-old practitioner Peng Geng was a Liaoning Province Police Department officer. In 2005, Mr. Peng was persecuted to death while in prison.
Zhang Lirong has practiced Falun Gong for 13 years. Since then, her stomach ailments, headaches, and postpartum diseases were all cured without medication. She also became tolerant and friendly. She often gave help to friends in difficult situations without asking for anything in return. After the CCP started to persecute Falun Gong, she firmly upheld her beliefs, and was sentenced to "re-education through labor" twice. She was persecuted in the Longshan and Masanjia Labor Camps in Shenyang for a total of five years.
On July 13, 2009, Zhang Lirong was arrested in her home by officials from the Gongrenchun Police Station of the Tiexi Police Department and the Domestic Security Division in Shenyang city under the charge of "promoting Falun Gong." Her home was also ransacked. On October 16, the Tiexi Court conducted a trial, and conspired with the local 610 Office to frame Zhang Lirong. That day, the court environment resembled an emergency crisis situation. Policeman lined the streets on both sides, taking photos of pedestrians. Court officials harassed Ms. Zhang's family members, and blocked all of them, including a lawyer, from entering the court.