Second International Chinese Traditional Martial Arts Competition Held in New York (Photos)
October 07, 2009 | By Epoch Times reporter Christine Lin
(Clearwisdom.net) On October 4, satellite television station New Tang Dynasty held its second annual International Chinese Traditional Martial Arts Competition at Baruch College. The competition's head judge, Youfu Li, said that Bruce Lee displayed some traditional martial arts in his movies, but ultimately did not portray the genuine art. "Westerners understand combat, and judge skill in martial arts by whoever wins. But the highest standard of truly traditional martial arts is to bring about a peaceful resolution [to a conflict], not to destroy your opponent."
Restoring a traditional martial arts creed is the goal of NTDTV's competition. The contestants are judged on their honor and the authenticity of their style--which means no mixing of the different schools within Chinese martial arts, and definitely nothing "invented" in modern times. Included in the competition are five divisions: fist style (male and female), weapon style (male and female), and Southern style.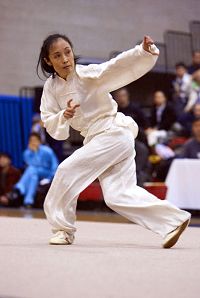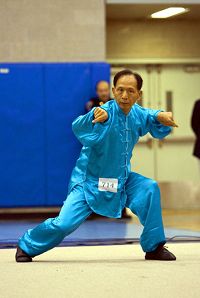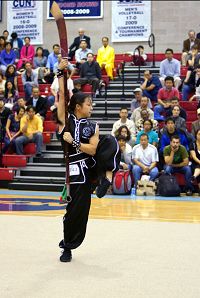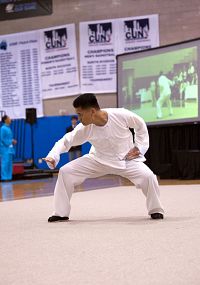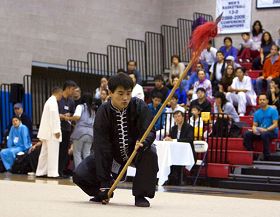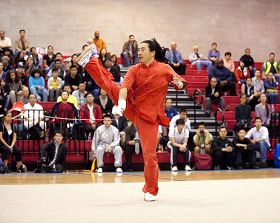 Contestants of all ages from around the world came to participate. Out of a total of 35 semifinalists this year, 14 made it to the final round, and each of them won gold, silver, or bronze in one of his or her respective divisions.
Journeys in Martial Arts
Ying Song, who won gold in the women's fist division, started her 20-plus year career in martial arts doing modern styles. "The [modern] movements were very pretty and fancy, and full of flips," she said. "There were little flourishes here and there, and it was quite showy. After a while I didn't want to do that anymore and began looking for something more traditional."

As her search for authenticity continued, she found that traditional martial arts have inner meaning, whereas what she previously practiced did not.

Through her studies and practice, she learned the code of honor that is the core of traditional martial arts. One time, she recalls, she was biking home from practice. She was on the wrong side of the road, but she didn't realize it and didn't bother to pay attention--she was a martial artist after all.

But then a car came rushing headlong at her. She dodged the car only to find that, in anger, the driver had U-turned to follow her. "In a rush, I thought, 'Well! Maybe it's time to put my combat skills to use!'" With this thought, she turned to face the car.

"And then we were face to face, and I was ready to fight him," Song said. "But then I thought, 'He didn't make a single move toward me. Why should I fight him?'" Instead, she calmed herself down and asked the driver whether she'd been driving down the wrong side of the road. The driver kindly explained that, indeed she was, and the confrontation was avoided.
Southern style gold winner Lu Wen-Ruey of Taiwan had a similar encounter. One day he heard a thief hiding in his home.

"My first move was to go find him," Lu said. He has been taught by his master that character training is of utmost importance. "When you meet with trouble, you won't have fear," he said.

Lu made his way upstairs, carrying a double blade. When he swung open the door, the thief was standing there--tall and, eying a short and middle-aged Lu, apparently unafraid. "I administered one blow to his face and another to his stomach, and he nearly fell over." Lu called the police, who took the man away.

Winners:

Gold ($5,000 and a titanium sword worth $6,000)*
Ying Song (women's fist)
Hao Fu Huang (men's fist)
Pei Yun Li (men's weapon)
Lu Wen-Ruey (Southern)
*No contestant won gold in the women's weapon division

Silver ($3,000 and a sword worth $4,000)*
Longfei Yang (men's fist)
Wen-ho Liu (men's fist)
Tammy Lee (women's weapon)
Jonathan Huang (men's weapon)
Samson Lee (Southern)
*No contestant won silver in the women's fist division

Bronze ($1,000 and a sword worth $2,000)
Lifang Li (women's fist)
Sheng-peng Liou (men's fist)
Leslie Jaw (women's weapon)
Xiaobin Zhang (men's weapon)
James Wu (men's weapon)

Honorable Mention (medal and certificate)
Chien-hao Li (men's fist)
Arthur Sayed (men's fist)
Xiao Gang Wu (men's fist)
Yu-Chi Wang (men's fist)
Rick Wong (men's fist)
Jie Yang (men's fist)
Ash Yu (men's fist)
Thomas Tsang (men's fist)
Kevin Yang (men's fist)

Ilene Eng (women's fist)

Dafa Sun (men's weapon)
Nan Lu (men's weapon)
Eric Yao (men's weapon)
Kai-Chung Cheng (men's weapon)

Hsi-Ling Chang (women's weapon)
Yan Hua Wang (women's weapon)

Chin-Hsiang Lin (Southern)
Fulin Wang (Southern)
James Kwan (Southern)