Taiwan: Calls to Investigate NTDTV's Signal Disruption (Photos)
October 30, 2009 | By Lin Ching-Han
(Clearwisdom.net) Right before the Chinese Communist Party's 60th founding anniversary on October 1, 2009, an NTDTV Asia-Pacific satellite signal was blocked by an unknown source. The signal was blocked for 15 days. NTDTV had rented the satellite from Taiwan-based Chunghwa Telecom. The National Communications Commission (NCC) of Taiwan received the second investigation report from Chunghwa Telecom on October 26. The source of the interference remains unknown. Mayor of Kaohsiung Chen Chu and Kaohsiung City Councilor Chuang Chi-wang called upon the NCC to make its investigation process transparent and to thoroughly search for reasons of the signal interference in order to protect freedom of the press in Taiwan.
Mayor Chen stressed that the best way to guard Taiwan's freedom and democracy is to present the truth. The process of the investigation needs to be transparent to the public.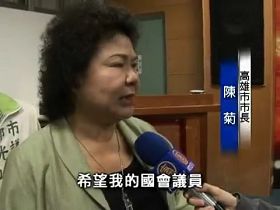 Chen Chu, Mayor of Kaohsiung.
Kaohsiung City Councilor Chuang Chi-wang.
Councilor Chuang believes that the government should allow all media to report freely. "We need to allow and respect any media as a democratic country," said Chuang.
Thirty Three Tainan City Councilors Petition to Thoroughly Investigate the Signal Blockade
Tainan City Councilor Lee Wen-Cheng proposed on October 26 to urge Chunghwa Telecom and NCC to thoroughly investigate the source of the NTDTV signal interference. Thirteen councilors joined the petition.
Tainan City Councilor Lee Wen-Cheng (second left) proposed to thoroughly investigate the source of NTDTV signal interference.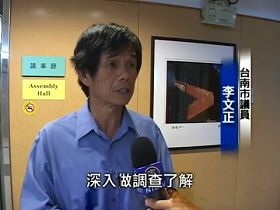 Tainan City Councilor Lee Wen-Cheng.
Lee believes that it's the audience's loss and the loss of news freedom that NTDTV couldn't broadcast freely in Taiwan. Lee called on the NCC to investigate the reasons. "(We want to know) whether the interference comes from China or elsewhere. (The NCC and Chunghwa need to give people in Taiwan the truth," said Lee.
Tainan City Councilor Chen Tsung-Yen.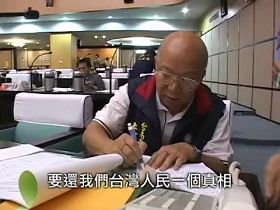 Many legislators petition to support investigation of the reason for NTDTV satellite interception.
Many legislators petition to support investigation of the reason of NTDTV satellite interception.
Tainan city councilor Chen Tsung-Yen said that Taiwan is respected in the international community for its respect for democratic freedoms and freedom of speech. "No matter whether it was from China or because of other reasons, the government needs to face the issue seriously and look into it. Freedom of the press is a basic value and it needs to be protected," said Chen.
On October 27, seventeen Tainan County councilors petitioned to support an investigation into the NTDTV satellite interception. They hope this will influence public opinion and help push the investigation process ahead.
Seventeen Tainan County councilors petitioned to support investigation into the NTDTV satellite intercept.
On October 27, Tainan County Magistrate Su Huan-Chih said the NTDTV incident is a setback in the process of pursuing freedom and democracy. "I believe those who pursue democracy and freedom will grow more courageous in the process," said Su.
Legislator: CCP May Put Pressure on Chunghwa Telecom
Legislator Lo Shu-Lei said that the two-page report from Chunghwa is too short. The NCC will ask them to release another report. Lo believed that if it was the CCP that pressured Chunghwa using business interests to block the NTDTV signals, then China does not respect Taiwan's sovereignty.
"If Chunghwa Telecom wants to move its business to China and Beijing uses this as a bargaining chip to pressure Chunghwa to interfere with news freedom in Taiwan, this will not be allowed." Lo continued, "The government protects every legal TV station and Chunghwa cannot do anything at will. I will continue to monitor Chunghwa's and NCC's reports."
Legislator Yeh Yi-Ching said that she would not allow such a thing to happen and would make sure she oversees the issue being addressed.
Legislator Tsai Huang-Lang believes that telecommunication is a protected industry. However, Chunghwa Telecom's collaboration with telecoms in China belongs at the level of homeland security and it should be addressed by the National Security Bureau.
NTDTV: Restore the Truth
NTDTV calls on the NCC to restore the truth and protect Taiwanese people's rights to know. In a statement, it stressed that the CCP suppresses NTDTV in many ways internationally because NTDTV is an independent reporter of Chinese news. In recent years, NTDTV has broadcast comprehensive and in-depth reports on human rights issues in China, corruptions among officials, persecution of businessmen from Taiwan, Falun Gong and minorities in China.
The statement mentioned that Chunghwa Telecom is bound by contract to investigate the issue. However, until now, Chunghwa has not actively conducted the investigation and has presented no results in its reports. NTDTV claims that it reasonably suspects that Chunghwa is under improper pressure and interference from China.
Since the incident took place, Chunghwa has not provided a backup plan to restore the signals and suggested that NTDTV move to another satellite provider.