Falun Dafa in South America (photos)
October 29, 2009 | By Tang En
(Clearwisdom.net) Falun Dafa practitioners in Brazil held the first-ever nationwide cultivation experience sharing conference in São Paulo on October 11, 2009. Participants came from São Paulo, Rio De Janeiro, Brasilia and Rio Grande do Sul.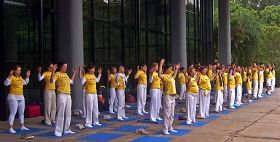 Group practice outside the conference venue
Falun Gong practitioners' graceful movements are now a familiar sight in countries across the globe. The recent conference is a testament to the virtues of Falun Dafa.
Falun Dafa Association Founded in Peru and Argentina; Spanish version of Zhuan Falun published
The Falun Dafa Association in Peru was officially registered on May 23, 2001, and Asociacion Civil Estudio de Falun Dafa in Argentina was registered on April 16, 2002.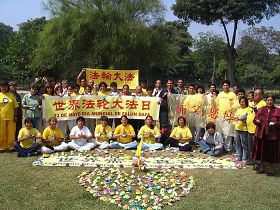 Practitioners celebrate the 14th anniversary of Falun Dafa's public introduction on May 13, 2006
5,000 copies of the Spanish version of Zhuan Falun were quickly sold out after its initial launch in Argentina in 2004. Spanish-language Falun Gong went into print the next year. Argentinean publishers supplied copies of Zhuan Falun to major bookstores in Spain, Chili, Uruguay and Mexico. Zhuan Falun soon became one of the top bestsellers in Argentina, with hardly any advertisement.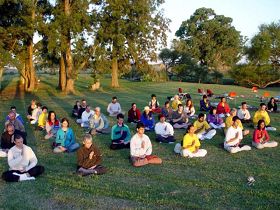 Practitioners doing exercises and sending righteous thoughts in La Plata City, Argentina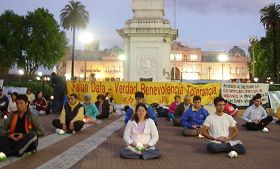 Candlelight vigil in front of La Casa Rosa, the Presidential Palace in Buenos Aires, commemorating practitioners killed in China as a result of persecution
2003: First Experience Sharing Conference in South America Held in Lima

The first Falun Dafa experience sharing conference in Peru was held in the capital city of Lima on February 9, 2003 along with a photo exhibit entitled "Falun Dafa Around the World."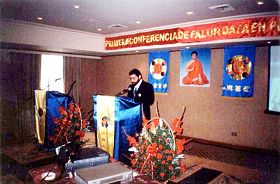 A Western practitioner shared his cultivation experience
Argentinean practitioners held their first conference in Buenos Aires on May 4, 2003. Attendees from Tucuman, Cordoba, Santiago Estero, Catamarca and Formosa traveled across a long distance by taking 13-hour overnight bus rides. Practitioners from Chile also attended the conference.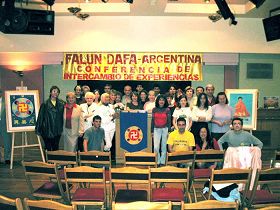 The first nationwide Falun Dafa experience sharing conference in Argentina took place in Buenos Aires on May 4, 2003

The Latin America Falun Dafa Experience Sharing Conference was held at the First Civic Center in Argentina's capital, Buenos Aires on March 7, 2004. Practitioners from Argentina, Brazil, Peru, Chile, Venezuela, Santo Domingo, Mexico as well as Spain, Canada, France, U.S. and Germany were among those who attended the conference. Master Li Hongzhi sent a greeting to the conference on March 3, 2004 in which he encouraged Latin American practitioners to share experiences, learn from each other, cultivate diligently, do well with the three things that Dafa disciples should do.
Introducing Falun Dafa at a Book Fair
The 13th Argentina International Book Fair was held in the largest exhibit hall in Buenos Aires from April 16 to May 9, 2004, and Falun Gong practitioners participated for the first time. The book fair lasted more than three weeks. About 400 major publishers and booksellers from all over the world were present. Each country had its own exhibition booth. Mayors from different cities, members of congress and ambassadors from different countries attended the opening ceremony. The President of Argentina also made an appearance. About 1.3 million people visited the book fair over the course of the event. Sometimes the line outside the hall meandered around five blocks.
Falun Gong practitioners demonstrated the exercises, which was very well received. Thus, participating the Book Fair to spread Falun Dafa becomes a tradition for Argentina practitioners.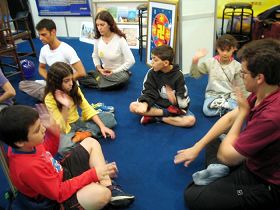 Members of the public learned Falun Gong exercises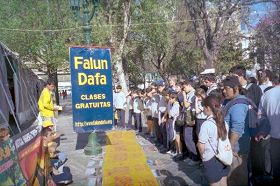 Informing visitors about the persecution
Sharing the wonders of Falun Dafa
Falun Dafa practitioners are happy to help others benefit from the practice. Word of mouth is the single most important channel through which Falun Dafa has spread so far and wide.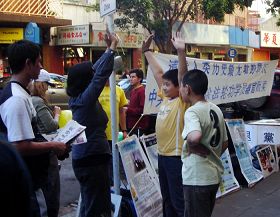 Passersby learned the Falun Gong exercises in an Argentina Chinatown
Peruvian practitioners held activities to introduce Falun Gong and expose the persecution over a 20 day-period in March 2002 across 19 cities. They demonstrated the exercises to the locals and presented Dafa books and videos to mayors. They also accepted interviews from radio and TV stations and left Spanish-language Falun Gong exercise instruction tapes, audiocassettes and Falun Gong books with the staff.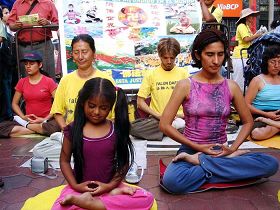 Peruvian practitioners demonstrated exercises in Chinatown, Lima during the Chinese New Year
Exposing the persecution
The Chinese Communist Party began persecuting Falun Gong on July 20, 1999. More than 3,300 practitioners have died as a result of persecution, and hundreds of thousands have been sent to prisons and labor camps; thousands were taken to mental hospitals and given psychotropic drugs; many others were sent to brainwashing facilities or went into exile. The Party also systematically harvested organs from living Falun Gong practitioners.

Practitioners followed Master Li Hongzhi's instructions over the past decade, by peacefully and continuously explaining Falun Gong to people of the world and calling on them to help end the persecution.
Practitioners finished the SOS Global Rescue Walk along the 300-km Pan-America Highway in Peru between September 28 and October 8, 2001. The walk began in Lima and finished in Ica. The words "Truthfulness-Compassion-Forbearance" on the practitioners' T-shirts caught the eye of many drivers who greeted practitioners by honking their horns; some even stopped to buy fruit and drink for the practitioners. The police shook hands with the practitioners.
The Falun Dafa booth was among the most popular at the Annual Garden Party in Buenos Aires' Chinatown. Practitioners took part in this event in February 2005 for the third straight year, to expose the persecution and draw attention on the plight of fellow practitioners in China.

People learn about the persecution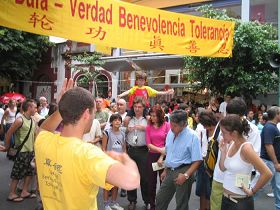 Steady flow of people at the Falun Dafa booth
Exposing Organ Harvesting Atrocities
The 2006 Latin America Falun Dafa Cultivation Experience Sharing Conference was held in Buenos Aires, Capital City of Argentina on October 28, 2006. Coincidentally, the World Transplantation Day held activities in Buenos Aires in the last week of October; therefore, practitioners who attended the conference exposed the live organ harvesting in China to people who came for the WTD.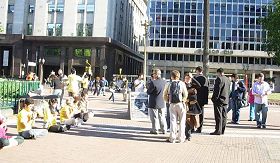 Practitioners tell visitors about organ harvesting in China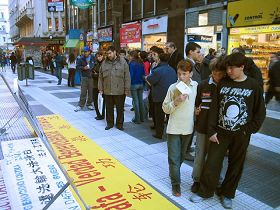 Argentinean practitioners display banners on the sidewalk near the Presidential Palace
In the meantime, Peruvian practitioners exposed the persecution via a photo exhibit and gathered support by collecting signatures and writing letters to government officials in March 2006.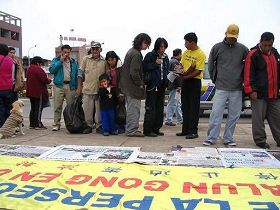 People express shock at the Communist Party's atrocities