Many Express Their Support for Falun Gong at the Vancouver Health Expo (Photo)
(Clearwisdom.net) An annual health expo was held on October 17 and 18, 2009 at the Vancouver Convention Center in Canada. Practitioners hosted a booth at the expo to help more people know about Falun Gong. Many people said that they had learned about Falun Gong and the brutal persecution by the Chinese Communist Party (CCP). Many people came to the booth and asked where they could learn the exercises.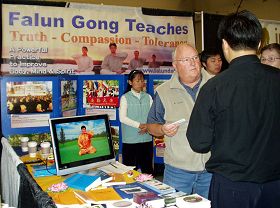 A man who is interested in learning Falun Gong gets more information at the booth
The Falun Gong practitioners' booth was decorated with a large poster of practitioners doing the sitting meditation, and posters displaying Falun Dafa's spread around the world. A TV set played a video instruction tape of the exercises. Some practitioners continuously demonstrated the exercises nearby. Quite a few people said while taking materials from practitioners, "I know Falun Gong, I also know that the CCP persecutes Falun Gong. The CCP is really insane." Some people said, "I know Falun Gong, I saw your protest on Grand Lake Street (at the Chinese Consulate)."
One lady told us, "I saw Falun Gong when I traveled to Hong Kong." She repeatedly expressed her support for the efforts to end the persecution. Another spectator said that he learned about Falun Gong when he traveled to Japan.
Some people asked as soon as they came to the booth, "Where are your practice sites? I want to learn Falun Gong." On the first day, over a dozen people registered their names, contact information or mailing addresses to be contacted about the local Falun Gong classes, which are always free of charge.
Those who have registered to learn the exercises were from various cities in the Vancouver area. Falun Gong practitioners have been invited to take part in parades held in those cities. They had distributed many fliers and provided people with opportunities to learn about Falun Gong.