The Parents of Ms. Gao Rongrong Are Being Watched (Photos)
(Clearwisdom.net) (By a correspondent in Beijing) During the Chinese Communist Party's (CCP) celebration of its 60 years of dictatorship, the parents of Ms. Gao Rongrong, who reside in Duangda Graden Minor District, the Haidian District, Beijing, were supervised by officers from the National and State Security offices. The parents, in their 80s, who lost their beloved daughter to the persecution and had no place to turn that could deliver justice, are now themselves being persecuted by the CCP.
According to a source familiar with the situation, the Haidian Branch Office ordered the Haidian Street Management staff to watch the movements of Ms. Gao's parents 24 hours a day in four shifts of two people each.
Ms. Gao Rongrong, whose face was disfigured by the guards in a forced labor camp, died four years ago as a result of the persecution. Even after her death, the CCP has continued to persecute her parents.
After Ms. Gao's death, her parents went to the Liaoning Provincial Procuratorate Office to request a copy of her medical report. Their request was denied.
Ms. Gao was a staff member of the Finance Department at Luxun Art College, Shenyang City, Liaoning Province. In June 2003, Wei Ershen, the college president, got the officers from the Shenyang City Heping District Branch 610 Office and the Xinxing Police Station to forcefully arrest and illegally sentence her to three years of forced labor. She was taken to Shenyang City Longshan Forced Labor Camp.
Because of her strong belief in Falun Dafa, Ms. Gao was subjected to many cruel torture methods when she was in Longshan Labor Camp. On May 7, 2004, Tang Yubao and Jiang Zhaohua, the deputy captain and the captain of the second brigade, ordered Ms. Gao to the duty room and handcuffed her to the radiator. They shocked her with electric batons continuously for about 6 hours, from 3 p.m. to 9 p.m. Her face was severely disfigured, swollen and full of blisters, and her scorched skin, hair, and blood stuck together. Her face was swollen so badly that her eyes were only a slit.
, left
Ms. Gao, Luxun Art College employee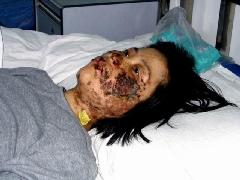 , right
Ms. Gao after being shocked with electric batons
In critical condition, she was then taken to the auxiliary hospital of the China Medical College in Shanyang City. The 610 Office, Department of Justice, and Liaoning Province Procuratorate worked in unison to plan further persecution while Ms. Gao was undergoing treatment for the serious wounds and facial disfigurement in the hospital. The perpetrators of these terrible crimes, Tang Yubao and Jiang Zhaohua, have gone unpunished.
The CCP was furious and wanted to further persecute Ms. Gao when the photo of her disfigured face surfaced in the international community. They repeatedly threatened her while she was still in her hospital bed. When Ms. Gao successfully escaped, Luo Gan, the secretary of the Judicial and Political Committee of the CCP, ordered her arrest. Zhou Yongkang personally directed the effort to mobilize National and State Security to pursue and arrest her.
In March 2005, Ms. Gao was arrested again; she died in June as a result of persecution. She had been secretly imprisoned in Masanjia Forced Labor Camp in Liaoning Province. Su Jing (female), Zhao Laixi, Wang, and Wang (female), the camp director, the two deputy directors, and the judicial and political committee representative participated in the cruel and vicious torture of Ms. Gao.
At present, secret agents are stationed outside Ms. Gao's parents' residence to monitor their activities. On the morning of October 4, someone spotted her father walking slowly in the minor district but he appeared to suffer a sudden illness and was helped back inside his house.
Just before the Olympic Games, Beijing National and State Security officers visited Ms. Gao's parents to warn them not to appeal for justice in public. Her brother was also warned. Her family is still under a lot of pressure and scrutiny.
According to news on the Clearwisdom website, Ms. Gao's niece was admitted to a university in Canada and got her visa approved, but the CCP blacklisted her and she was not allowed to leave the country.
Written on October 6, 2009.