Tokyo, Japan: Falun Gong Group Participates in Festival Parade in Nakano (Photos)
October 16, 2009 | By a Falun Dafa practitioner in Japan
(Clearwisdom.net) On October 10 and 11, 2009, Nakano in Tokyo, Japan, celebrated its 34th annual festival. Over 30 local groups took part in the parade prior to the opening ceremony. Falun Gong practitioners participated in this event for the third year.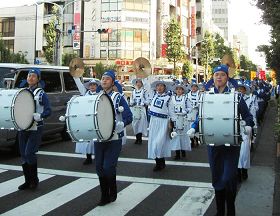 Falun Gong contingent led by the Divine Land Marching Band on march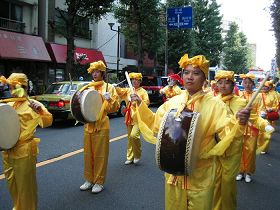 The lively and joyous Waist Drum Team spread the goodness of Truth-Compassion-Forbearance
The lineup composed of 200 Falun Gong practitioners was arranged as the last contingent in the parade. The Divine Land Marching Band led the group, playing the resounding melody "Falun Dafa Is Good." Colorful flag and waist drum teams followed the band. The three sections in the Falun Gong procession impressed and delighted the spectators along the parade route.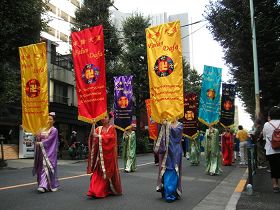 Colorful flag team
As the Falun Gong contingent prepared to set off in a park, they attracted the attention of passersby. A lady from Sichuan Province who came to Japan three years ago said, "I'm very pleased to see Falun Gong here. Falun Gong cultivates Truth-Compassion-Forbearance, and I'll go to a practice site to learn the exercises."
Another gentleman, a former employee of Japanese Central Bank, said that he had been to China several times and thought the CCP was really horrible. He encouraged the practitioners to keep up their efforts, to contact him if needed, and that he would definitely try his best to help. Another man who has studied Chinese for many years said that he had learned about the CCP's ruthless persecution of Falun Gong and admired Falun Gong practitioners. He also encouraged the practitioners to keep up their efforts.