Germany: "We Are with You, and We Support You" (Photos)
(Clearwisdom.net) From October 1-4 of 2009, Falun Gong practitioners held activities to support the movement to withdraw from the CCP and its affiliated organizations on the square in front of the Cologne Cathedral. After finding out the facts, many people signed their names to support stopping the persecution of Falun Gong and to support those who have withdrawn from the CCP. The German Quitting the CCP Service Center also held similar activities in Berlin, Munich and Hamburg.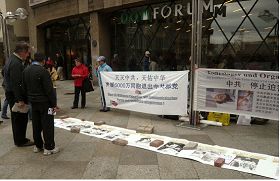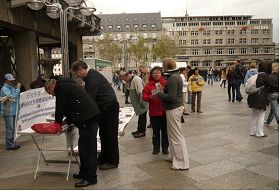 German Falun Gong practitioners organized Information Days on the square in front of Cologne Cathedral
After attending the event, Mr. Marsharr said, "These pictures describe some extremely unfair and violent facts which have happened in the world, especially in China. This is a regime that maintains its power by every means." Mr. Marsharr came from the former East Germany and said that he has first-hand knowledge of the Communist Party.
Miss Piachno said at the event, "What is described in these pictures all amount to crimes, and I can hardly bear to look at them." She also encouraged the Chinese people to see for themselves what the CCP is all about, and pointed out how the CCP is extending its influence in the West through its money.
Mr. Haas commended the practitioners on the event and told them, "Communism and socialism are notorious in Germany, Europe and all over the world. It should be stopped. We are with you, and we support you!"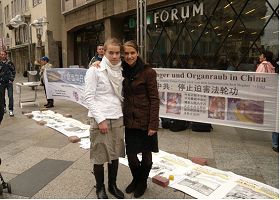 These two young ladies came to the Information Day and signed their names on the petition to stop live organ harvesting by the CCP