Hong Kong Resident Ms. Li Yaohua and Her Daughter Face Prosecution; Son in the U.S. Calls for Help (Photo)
Name: Li Yaohua (李燿华)
Gender: Female
Age: 63
Address: Third floor, Building No. 22, Lane No. 833, Huaihaizhong Street, Luwan District, Shanghai)
Occupation: Unknown
Date of Most Recent Arrest: June 4, 2009
Most recent place of detention: Xuhui District Detention Center, Shanghai (上海市徐汇看守所)
City: Shanghai
Persecution Suffered: Detention, Home Ransacked.
Defense Attorney: Han Zhiguang (韩志广)
(Clearwisdom.net) (Li Ruoyun from Los Angeles) Falun Gong practitioners and Hong Kong residents Ms. Li Yaohua and her daughter Ms. Zhang Zhibo are very likely to be prosecuted in a Shanghai court in the next few days. Ms. Li's son, Mr. Zhang Zhiyuan, now a lecturer in the Dental Faculty of California University in Los Angeles, has called for public attention to his mother's case in an effort to stop the Chinese Communist Party (CCP) from continuing with this unlawful prosecution.
At midnight on June 4, 2009, police officers and agents of the 610 Office, the National Security Section of Xuhui District, Shanghai, and the Tianlinxincun Police Station broke into Ms. Li Yaohua's home without going through any legal procedures. They ransacked Ms. Li's home and arrested her and her daughter. Ms. Li and her daughter have been held in the Xuhui Detention Center for nearly four months.
All communication with the outside world has been cut off following the arrest of the mother and daughter. According to information that the daughter, Ms. Zhang Zhibo, released to her lawyer, police from the National Security Section had on numerous occasions deprived her of sleep for long periods of time. They also tried to extort a confession from her by threatening that they would arrest her father and sentence her mother to ten years of imprisonment.
According to the latest news, the Xuhui Police Department has issued an official advisory document to prosecute Ms. Li, her daughter and four other Falun Gong practitioners: Zhang Qin, Lu Yuzhi, Ye Ying and her daughter.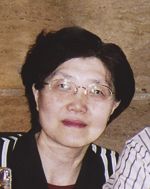 Falun Gong practitioner Ms. Li Yaohua
Ms. Li Yaohua, 63 years old, lives on the third floor of Building No. 22, Lane No. 833, Huaihaizhong Street, Luwan District, Shanghai. She is a Hong Kong resident. She started to practice Falun Gong in 1996. After the CCP started to persecute Falun Gong in July 1999, local police went to her home many times to try to force her to give up her practice and closely monitored her with 24-hour surveillance.
After Ms. Li and her daughter were arrested, all communication channels with the outside world were cut. Ms. Li's lawyer, Mr. Han Zhiguang, met with Ms. Li once on June 29, 2009, but the whole process of the meeting was closely monitored by police officer Liu Zhihui from Tianlinxincun Police Station. Since July 1, out of their worry that Ms. Li would not survive the environment in the detention center, Ms. Li's family applied to suspend her trial five times. On July 15, they received one official rejection of their application, while they received no response to the other four applications.
On September 4, the Xuhui Police Department issued an advisory document to prosecute Ms. Li on charges of "producing and distributing Falun Gong video CDs and booklets." The document has been submitted to the People's Procuratorate of Xuhui District and is awaiting a decision. On September 15, Ms. Li's father, Mr. Li Shanzhen, submitted an application to the People's Procuratorate of Xuhui District to have the trial suspended. The prosecutor, Xu Zhenhui, rejected the application on September 24 with the excuse that Ms. Li is not eligible for a suspended trial. He also informed the family that any further applications would not be considered.
Ms. Li's son said that the decision of the Xuhui Procuratorate is completely irrational and unlawful because they did not give any reason for their rejection of Ms. Li's application for suspending the trial. He said, far from doing that, the authorities even further deprived his mother of her right to apply for a reconsideration of that decision.