Singapore Divine Land Marching Band Performs for the First Time to Warm Applause (Photos)
January 07, 2009 | By a Falun Gong practitioner in Singapore
(Clearwisdom.net) The Singapore Divine Land Marching Band, composed of more than 60 Falun Gong practitioners from Singapore, performed for the public in East Coast Park at dusk on January 4, 2009. The band members, dressed in blue shirts and white pants, lined up neatly. The band drew attention from many locals and tourists.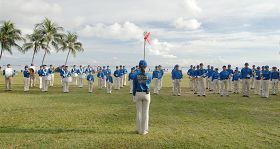 Singapore Divine Land Marching Band performs in East Coast Park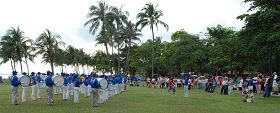 Spectators give warm applause for the band's performance
The band performed "Falun Dafa Is Good," "Ode to Joy," "Fa Drums and Fa Trumpets Shake the World in Ten Directions," "The Fa Rectifies Heaven and Earth," "Delivering Precious Gifts," and "Joy to the World." The audience gave them a round of applause for their wonderful presentation.
People who were jogging or riding bikes and some tourists who were nearby stopped to find out more about the band. One person said, "Such a performance, such a scene, I have never seen before!" A little girl in bright-colored clothes, riding on her father's shoulders, clapped her hands and cheered for the performance.
An elderly woman who came from China, where Falun Gong is persecuted, was surprised as it was the first time that she had seen Falun Gong practitioners perform since she had come to Singapore to visit her relatives. A Frenchman said that he had learned Taichi before, and came over to ask the practitioners about Falun Gong.
After the performance, band member Ms. Li smiled brightly and said, "I feel great. And next time, the Singapore Divine Land Marching Band will do even better!" Mr. Chen, another band member, wiped his sweat away while speaking with smile. He said that in order to let more people in Singapore hear their performance and learn the facts about Falun Gong, he would be happy to make great efforts, no matter how tired and exhausted he feels.