Australia: Falun Gong Practitioners Call for Bringing the Murderers to Justice (Photos)
September 03, 2008 | By Minghui reporter Wenyun
(Clearwisdom.net) On September 15, 2004, Falun Gong practitioners in Australia filed a lawsuit against Jiang Zemin, Luo Gan and the 610 Office for crimes against humanity and genocide. The Supreme Court in Australia took the case. Falun Gong practitioners applied for a trial by default.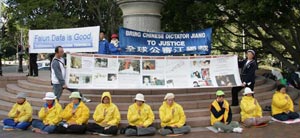 Falun Gong practitioners call for bringing the murderers of Falun Gong practitioners to justice.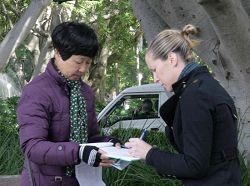 Signing petition to support Falun Gong
Four years later, a trial will be held on September 2008.
Before the trial, the practitioners held a series of activities in front of the Supreme Court, explaining the facts of the persecution.
The Chinese government has tried to interfere with the case, arguing that "diplomatic immunity" should shield the defendants from being tried. The Australian legal system is facing a test.
Ms. Zhang Cuiying, one of the plaintiffs, said that she was jailed in China for eight months for her belief in Falun Gong, and her nephew is still imprisoned in China. Falun Gong practitioners have been trying to clarify the truth about the persecution to people, and bringing the murderers to justice is one way to do it. Many Falun Gong practitioners came to the event to expose the brutality of the persecution. Their spirits touched many people. Ms. Dai, a Falun Gong practitioner, said that many people, including lawyers, signed their names to support Falun Gong. One day a judge came up to the practitioners and signed his name. He encouraged practitioners to keep up their efforts.
In just a few days, practitioners collected more than 5000 signatures on petitions which call for bringing the murderers to justice.