Toronto Mid-Autumn Spectacular Showcases Chinese Culture (Photos)
(Clearwisdom.net) On the evening of September 16, the New York based Divine Performing Arts presented the third show of the Mid-Autumn Spectacular at the John Bassett Theater in Toronto. The show features classic Chinese dance and brings many beloved Chinese legends to life. When the show concluded, it received a standing ovation from the audience and the performers took three curtain calls.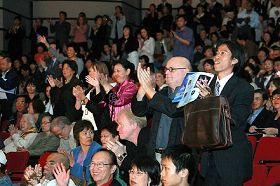 The third Mid-Autumn Spectacular receives warm applause from the audience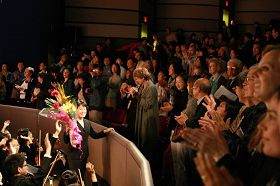 The third Mid-Autumn Spectacular receives warm applause from the audience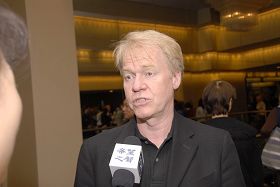 Film producer Jeit Briston was fascinated by the Erhu solo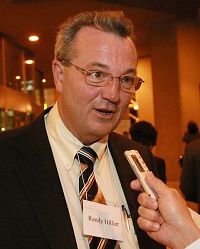 Ontario MPP Randy Hillier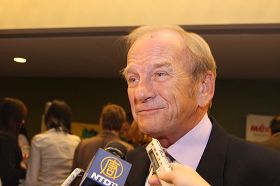 Pickering City Councilor Doug Dickerson)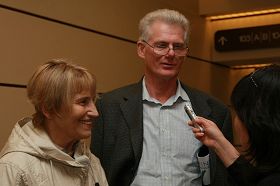 Hotel manager Tony and his wife Nila
Canadian film producer Jeit Briston said that compared to the previous year, the show is more diverse and further perfected, and he said that in many aspects the show reflects many Broadway shows.
"It was a miraculous night," said Mr. Briston, "I think the costumes are exceptional, as their design is so complicated and the colors are so bright. It is very impressive and the talent of the costume designer is amazing...The Erhu Solo was one of the best, and you can definitely feel that she devotes her compassion and heart... she is great."
Tandy Hillier, an Ontario Member of Provincial Parliament (MPP), said that the show was great and he was amazed by the inner meaning conveyed. The MPP said that he fully agrees with the values of "Loyalty" and "Fidelity" depicted in the show. "To me, these are the universal values and should be inherent in people everywhere," said Mr. Hillier. Meanwhile, he was also impressed by classical Chinese dance and he was amazed by the fact that sophisticated messages can be conveyed using music and dance.
Doug Dickerson is a senior councilor of Pickering, and he said that the show was absolutely spectacular and the choreography, backdrop design and performers were amazing. Mr. Dickerson said that he held his breath while watching the show and he admired the Chinese culture even more. "After the show, many children would ask: 'Mom and dad, why do we know nothing about this culture? How can we let every corner of the world know about this excellent Chinese culture?'"
Tony is the manager of Stratcona Hotel Toronto, and he said that the show presented him with a culture which he had never seen. "I think this show is great and I love it. I am an Italian and my wife is German, and we are very glad to have seen such a show."
"The piece which impressed me the most is the Mongolian Bowl Dance. Loyalty and fidelity in Chinese culture are very important to family and country," said his wife Nila.