The Opening of the Asia-Pacific Preliminary Round of the International Chinese Culinary Competition (Photos)
September 27, 2008 | By Zheng Xiaowei, Su Rong in Kaohsiung, Taiwan
(Clearwisdom.net) The Asia-Pacific preliminary round of the first NTDTV International Chinese Culinary Competition was held on September 20 and 21, 2008, at the National Kaohsiung Hospitality College in Taiwan. The two-day competition was a spirited event. The contestants were held to a tight schedule, requiring deep concentration, while enthusiastic shouts by relatives and friends encouraged the contestants. The list of those who made the first cut was announced on the evening of September 21 at the Ambassador Hotel. Fifty-five out of one hundred and eight contestants were invited to come to New York to take part in the finals and have a shot at the $10,000 prize.


The announcement ceremony of the International Chinese Culinary Competition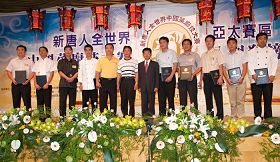 First cut winners with Yang Chiu-Hsing, the Kaohsiung County Magistrate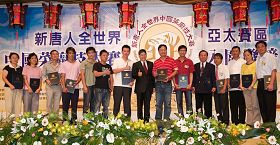 First cut winners with Yung Chih-Yeh, the President of the Kaohsiung Hospitality College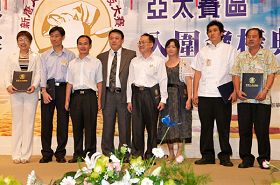 First cut winners and the head judge Qu Yunqiang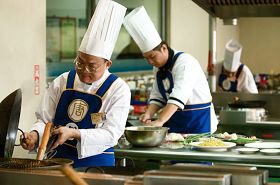 The contestants preparing for the competition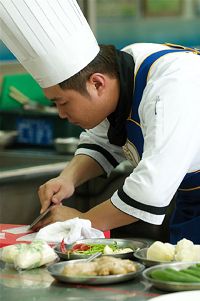 A chef preparing for the Competition
Chief Judge Qu Yunqiang from New York said, "Many high-caliber candidates participated in the competition. Each of us wants to be a part of restoring traditional Chinese cuisine. In fact, the competition's goal is to promote traditional, orthodox Chinese food. Flavor is the foundation of Chinese food."
Ma Lijuan, who is responsible for the nine competitions held by NTDTV, stated, "We wish to promote authentic traditional Chinese culture. Therefore, the most important factor for each contestant is participating in the promotion of traditional Chinese food. I wish to extend my heart-felt gratitude to the one hundred and eight candidates. Your participation and support has contributed to the competition and is of great significance."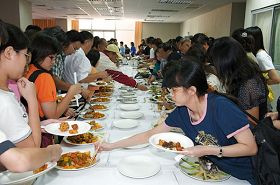 Cantonese cuisine was first in the competition.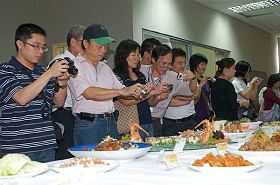 The audience takes photos of the dishes presented at the competition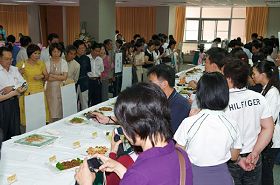 The audience takes photos of the dishes presented at the competition


The audience awaits the list of the winners
After the competition, Qu Yunqiang said, "Chinese food has been around for centuries and formed a specific food system. Chinese food is good for people's health. After one understands the fundamentals of Chinese cuisine, one can develop infinite varieties to adapt to the tastes of different people. That's one of the reasons for its worldwide popularity."
Qu highlighted Sichuan cuisine to make his point. Mapo Tofu is spicy, but should be sweetened with sugar. Sugar is added to reduce the heat, as it adds more flavor to the dishes. Sugar is added to provide an after-taste, another layer of flavor, and using it to balance the spiciness gives the food more depth.
He pointed out one part where some fell short, "Some of the participants were very good with the knife and knew how to manipulate the spiciness, but performed poorly with the base flavors -- hot spicy, sweet, salty, sour and bitter. This is because they have insufficient in-depth knowledge and understanding of the history, culture, features, methods and techniques of the cuisine they presented. Today, most people know little about the traditional Huaiyang, Shandong and Northeast cuisines, as some of the preparation methods have been lost."
The competition included Sichuan, Shandong, Cantonese, Huaiyang, and Northeast cuisine. The rules required that the contestants have a certain knowledge of the origin and development of the cuisine, experience in making dishes of the selected cuisine, and knowledge the basic techniques. The dishes in the competition should be nutritious and display clear regional flavors
Short-listed Cantonese Contestant: A Chef Should Have an Open Mind and High Moral Standard
Mr. Du Mung-Chia is a teacher at the Department of Restaurant Management at Lichih High School in Kaohsiung City and he is one of the Cantonese contestants on the short list. The dish he chose is colorful and called "Dance of Dragon and Phoenix". He believes that since cooking is inter-connected with scientific fields, chefs should keep an open mind and high moral standard. This would help in changing the perception people hold about chefs. That is, one can only earn respect in society when his moral level is elevated.
Mr. Du said that Chinese cooking is built on traditional techniques, which is worth promoting. He hopes to see such competitions annually. He would like to train more young people about cooking.
Mr. Chen Ming-huei, the head chef at Zhencangguan Gourmet Restaurant in Dashe County, Kaohsiung, another Cantonese contestant on the short list, chose his restaurant's specialty -- sautéed goat and fish with XO sauce. He said that a chef must pay attention to hygiene, and a good chef should know the basics of preparing a dish, have knowledge about each dish and why it has been handed down over such a long time. He thinks a chef should not change the original taste of a traditional dish or it would lose its appeal. When he teaches students, he explains the points he is trying to make by cooking the entire dish. He thinks that one can be only a role model if one does well.
Short-listed Sichuan Contestant: Discover the Traditional Taste and Open your Eyes
Participants were required to finish a designated dish and one of their choice within 60 minutes. This included preparing, cooking and presenting to the judges. The judges awarded scores for taste, texture, appearance, and nutrition.
Mr. Chang Ching-he, the head chef of the Songhewu Restaurant in Taibao City, Chiayi County, finished two Sichuan dishes in 40 minutes. He entered the short list with the designated dish "Dry Sautéed Chicken with Dried Red Chili Pepper" and a dish of his choice, Mapo Tofu. Mr. Chang said that his purpose for participating in the competition was to learn from others. He thinks that cooking has many different aspects, and he was pleased to be one of the second round contestants.
To prepare for the competition, Mr. Chang did a lot of research. He said, "There are many methods to make Dry Sautéed Chicken with Dried Red Chili Pepper. You can't tell easily which method is the real traditional one, so one has to do research and look for the most traditional taste, smell, and color. It was a good opportunity to learn."
Short-listed Shandong Contestant: It is My Duty to Remember and Pass on What My Teacher Taught Me
Mr. Ho Chin-cheng, an assistant professor at Toko University, brought three students to the competition. He was a Shandong contestant. He said that Shandong Province is bordered on three sides by the ocean. They generally cook fish, shellfish, fish fins and other seafood dishes. But, where it borders a mountain, people mainly make poultry and meat dishes.
Mr. Ho was not concerned that his students might outdo him. He said that in the past, a chef did not tell all he knew to his students, not because he didn't want to share all he knew, but because they were not good teachers and lacked the skill to communicate well. In modern times, teaching is combined with theory and techniques. Students begin with learning the concepts of nutrition. Students fully understand the food materials and seasonings. He often told his students that this is a difficult career, and one should only continue if one has a strong interest in it.
Short-listed Northeast Contestant: Food is Related to Health and the Chef Should Have High Moral Standards
Mr. Iga from Japan excels in Northeastern dishes. He is half-Chinese and half-Japanese, and he has managed a restaurant for nearly 20 years. He chose the "Fried Pork Pita" dish. He said: "This is a favorite dish for northeastern people and it has been handed down for a long time. To cook it, you wrap a cornstarch sheet around the outside of pork and deep fry it to make it crisp outside and fresh inside. Then you cover it with sweet and sour source."
He said that he is participating in the competition so that he can learn more. He said NTDTV's purpose is to promote authentic Chinese culinary techniques, which he promotes too. He also said, "Japan is faced with contaminated food from China, such as the contaminated dumplings and milk powder. This clearly shows that a cook can't ignore moral standards. It affects the health of the public."
Short-listed Huaiyang Contestant: No Good Flavor If One Only Seeks Good Looks
Mr. Yu Chieh-Chung is the head chef in the Premiere Restaurant in Tainan City and he cooks Huaiyang dishes. Mr. Yu has cooked Shanghai dishes for 22 years. He expresses strong feelings given the moral differences between the past and now. He said: "In the past, the seasonings were natural ingredients, but now people use chemical seasonings and forgot the original taste. Cooks paid attention to texture and temperature in the past, but now people pay more attention on speed and efficiency. This is not a good trend."
Mr. Tan Mung-Hsiung, another Huaiyang contestant, who is an assistant professor at Meiho Institute of Technology in Taiwan, said to reporters: "The competition helps us to keep our traditional methods, including cutting and cooking techniques, and it requires attention to flavor too. Those students who only focus on the looks of a dish will not get good flavor. This was an excellent event."
During the award ceremony at the Ambassador Hotel, Mr. Yang Chiu-Hsing, the mayor of Kaohsiung County, and Mr. Rong Chih-yeh, dean of the National Kaohsiung Hospitality College, said that this was a very meaningful competition. They considered this to be a pivotal point for promoting authentic Chinese culinary culture.
After the ceremony, there was a banquet with fifty-seven tables filled with dishes from the five main cooking systems. It was an eye opener for the guests. The dishes included: goose flavored with Shaoxing wine, spicy ox tripe, oyster mushroom salad, Cantonese style shrimp roll, sautéed clams with XO sauce, thick soup with chrysanthemum and shredded meat and vegetables, scallion flavored sea cucumber, salted whole duck smoked with lauraceous tea, deep-fried shrimp balls, king's style spice-flavored pork, kongpao squid, potato stir-fried with chili pepper, fried pastry with and onion and seafood filling, sautéed eel fillet, dried scallops with Chinese cabbage, almond cream, and seasonal fruits.