New York: Celebration for Rescued Falun Gong Practitioner Held at Gloversville Senior Center (Photos)
September 25, 2008 | By a practitioner in New York
(Clearwisdom.net) On the morning of September 19, 2008, Gloversville Senior Center in Upstate New York was full of joyous laughter, as more than 60 guests celebrated the first year of freedom for Falun Gong practitioner Ms. Li Xiulan in the United States. Ms. Li was rescued from persecution by the Chinese Communist regime in her native China last year. The director of the senior center, Ms. Catherine Mueller organized and hosted the event.

Director of Gloversville Senior Center Catherine Mueller and Ms. Li Xiulan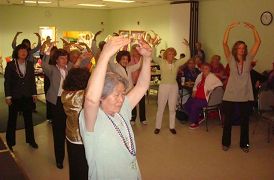 The elderly in the senior center learn to do the Falun Gong exercises

Citation from New York State Assemblyman Marc Butler congratulating Ms. Li Xiulan on her first year of freedom in the United States
In 2007, the Chinese Communist regime arrested Ms. Li for talking to people about Falun Gong and sent her to the Daxing Brainwashing Center. With the joint concern and help of the US Embassy and congressmen, Ms. Li was freed and came to the United States on September 19, 2007 and was reunited with her daughter.
At the celebration, Ms. Terry Jasewicz, representative of US Representative Michael McNulty, presented Ms. Li with the American flag, that symbolizes freedom and equality. Ms. Terry Jasewicz reiterated in her speech that the United States respects human rights. New York State Assemblyman Marc Butler sent a special citation for today's event. The daughter of Falun Gong practitioner Ms. Qin Shizhen, who is still held at Lanzhou City's Gongjiawan Brainwashing Center in China, recounted her mother's ordeal.
The guests listened to Ms. Qin's daughter attentively. Afterwards, they expressed sympathy for Ms. Qin Shizhen. They applauded, laughed joyously, and expressed their heartfelt congratulations to Ms. Li Xiulan, as well as appreciation for Falun Gong practitioners' uncompromising spirit. After the celebration, nearly 20 seniors learned to practice Falun Dafa. They were engrossed in learning the exercises.
The senior center director, Ms. Mueller said that she had never seen these seniors remain so quiet for such a long period of time. She could see that Falun Gong's movements are so soothing and smooth, perfect for elderly people. She said they would arrange for the seniors to learn the exercises in November.
The youngest person in the senior center is 50 years old, and the oldest are in their 90s. Among them were veterans from the Vietnam War, celebrated dancers and twin sisters. These elderly people enjoy passing their time by writing, drawing, tending gardens or sewing.
At the end of the event, an older man walked up to the Falun Gong practitioners and expressed his sympathy and support. An energetic Italian lady in her 90s was proud of herself for being able to say "Falun Dafa is good" in Chinese.