On the Eve of the Olympics, Czech People See Silent Falun Gong Vigil on Television (Photos)
(Clearwisdom.net) On the eve of the opening ceremonies for the Olympic Games in Beijing, the Falun Gong Association in the Czech Republic organized a 24-hour vigil honoring practitioners killed by the Chinese Communist regime. The activity, which was held on August 7-8 , also pointed out that 1.3 million people demand stopping the persecution of Falun Gong in a world-wide petition.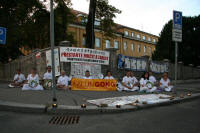 Candlelight vigil in front of China's Embassy to the Czech Republic on the eve of Olympic opening ceremonies in Beijing
With their silent appeal, practitioners warned the Czech people that the communist party is using the Olympics to further persecution and escalation of the repression of Falun Gong. Thousands of Falun Gong practitioners around China have been arrested "in preparation" for the games. At least 8000 practitioners have been rounded up and arrested since December 2007. Practitioners are now being killed faster and more often than before. Falun Gong practitioners are also officially excluded from the Olympic Games, as athletes, coaches, journalists and spectators. This is a violation of the Olympic Charter as well as the code of ethics signed in Beijing in April 2007.
The silent and peaceful protest drew great interest from Czech media. The main TV station broadcast several live shots from the appeal, so the news about the persecution and the practice was widely seen. The media also discussed information about labor camps near Olympic stadiums and organ harvesting from Falun Gong practitioners.
Czech Human Rights Minister Mrs. Dzamila Stehlikova sent her greetings to the activity. In a statement she wrote that such gatherings in front of the Chinese Embassy were very important: "The world must not neglect the fact that during the monumental opening ceremony the secret police once again shut the doors of the flats of several thousand Chinese activists - locked under house arrest during the Games, and that 'uncomfortable' spectators were sent home, accompanied by a police escort."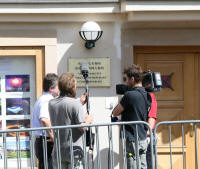 Reporters from Czech's national TV network seek Embassy comment, but officials refused to meet with them
Representatives from the Czech Falun Gong Association tried to deliver a letter to the Chinese ambassador to the Czech Republic, asking her to appeal to the Chinese government to immediately stop the persecution of Falun Gong practitioners. No one from the embassy accepted the letter personally, nor would they meet with a TV reporter from Czech TV seeking comment from the embassy.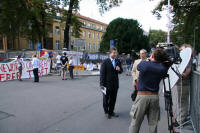 Protesters from a Free Tibet group join the Falun Gong contingent in front of the Embassy, as the media films one of many live broadcasts from the scene on the eve of Olympic opening ceremonies in Beijing